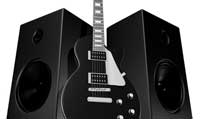 | | |
| --- | --- |
| Mix Name: | Rock to the Beat |
| Mix DJ: | DJ Riggz |
| Mix Genres: | House, Rock, Pop |
| Explict Lyrics: | Yes |
| Mix Length: | 75 minutes |
| Mix BPM: | Tempo |
| Mix Rating: | ( 126 Votes ) |
| Share this awesome mix: | |
Mix Description
Get ready to bust out your air guitar and rock hands for this mix, built from Katie Key's extensive playlist over at katieRUNSthis.com.  It is 75 minutes of rock, pop and and a touch of electro that will keep you cruising along for a great run.
One of the best things about this mix is that is perfect for a tempo run. That's because the speed of the music (aka beats per minute or BPM) starts at 120 and slowly builds to 140 before dropping back to 130 to finish.  If you keep in time with the beat, you should be getting faster as you run and then cool down as you finish.
Much thanks to Katie for providing the playlist and allowing our DJ's to take over from there.  You can follow Katie on twitter @katieRUNSthis. Rock on!
read less
Get ready to bust out your air guitar and rock hands for this mix, built from Katie Key's extensive playlist over at katieRUNSthis.com.  It is 75 minutes of rock, pop and and a touch of electro that will keep you cruising along for a great run.

read more
| | | | | | | |
| --- | --- | --- | --- | --- | --- | --- |
| # | Track Title | Artist | Preview | BPM | MI | Buy track |
| 1 | Blow | Ke$ha | | - | - | |
| 2 | Supermassive Black Hole | Muse | | - | - | |
| 3 | 7 Nation Army (DJ X Mind Electro Remix) | White Stripes | | - | - | |
| 4 | You're Gonna Go Far Kid | The Offspring | | - | - | |
| 5 | Smooth Criminal | Alien Ant Farm | | - | - | |
| 6 | Firework | Katy Perry | | - | - | |
| 7 | Super Bass (DJ AtWill Remix) | Nicki Minaj | | - | - | |
| 8 | Don't Stop the Party (JD Live Rework) | Black Eyed Peas | | - | - | |
| 9 | Moves Like Jagger (PeteDown B-More Refix) | Maroon 5 feat. Christina Aguilera | | - | - | |
| 10 | When I Grow Up | Pussycat Dolls | | - | - | |
| 11 | Hello (Angle Edit) | Martin Solveig feat. Dragonette | | - | - | |
| 12 | Hello Teen Spirit | Valid vs. Martin Solveig feat. Dragonette | | - | - | |
| 13 | Get this Party Started | Pink | | - | - | |
| 14 | Don't Trust Me (Blend Brothers Clean Elektro Re-Work) | 3OH3! | | - | - | |
| 15 | And She Said.. | Lucas Prata | | - | - | |
| 16 | Le Disko (Tommy Sunshine Brooklyn Fire Retouch) | Shiny Toy Guns | | - | - | |
| 17 | Let Me Hear You Scream | Ozzy Osbourne | | - | - | |
| 18 | Panic Switch | Silversun Pickups | | - | - | |
| 19 | Celebrity Skin | Hole | | - | - | |
| 20 | Circle the Drain | Katy Perry | | - | - | |
| 21 | Bad Girlfriend | Theory of a Deadman | | - | - | |
| 22 | This is Such a Pity | Weezer | | - | - | |
| 23 | Feel Good Inc | Gorrilaz | | - | - | |
| 24 | Little Lion Man | Mumford & Sons | | - | - | |
| 25 | Beat It | Michael Jackson | | - | - | |
| 26 | This is How a Heart Breaks | Rob Thomas | | - | - | |
| 27 | Closer to the Edge | 30 Seconds to Mars | | - | - | |
| 28 | See You Again | Miley Cyrus | | - | - | |
| 29 | Viva La Vida | Coldplay | | - | - | |
| 30 | Beautiful Day | U2 | | - | - | |
| 31 | Jai Ho | A. R. Rahman And The Pussycat Dolls Ft Nicole Scherzinger | | - | - | |
| 32 | Maneater | Nelly Furtado | | - | - | |
| 33 | Shut Up and Drive | Rihanna | | - | - | |
| 34 | Party Rock Like Teen Spirit (DJ HowLy Mash) | LMFAO vs. Nirvana | | - | - | |
| 35 | When You Were Young | The Killers | | - | - | |
| 36 | Higher | Taio Cruz feat. Kylie Minougue | | - | - | |
| 37 | Bullet with Butterfly Wings (DJ Backdraft Remix) | Smashing Pumpkins | | - | - | |
| 38 | I Don't Wanna Be In Love | Good Charlotte | | - | - | |