Mashup My Run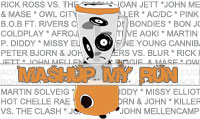 | | |
| --- | --- |
| Mix Name: | Mashup My Run |
| Mix DJ: | DJ Eric Love |
| Mix Genres: | Rock, Hip-hop, 80s |
| Explict Lyrics: | No |
| Mix Length: | 60 minutes |
| Mix BPM: | Varies |
| Mix Rating: | ( 53 Votes ) |
| Share this awesome mix: | |
Mix Description
If you're the kind of person that when someone asks "What kind of music do you listen to?" you answer "Everything!" then Mashup My Run has your name all over it. DJ Eric Love take rock songs, hip-hop songs & 80's songs and blends them together into a mix that will keep you guessing for a full 60 minutes making your run just fly by.
The first part of the mix is great for a runner that is interested in starting at a low tempo and building for 30 minutes.  The mix start in around 130 and  builds to around 150 at the half way point.
At around 30 minutes, the mix drops down into songs that are more geared for non-BPM running.  The tempo drop to around 100 and slows builds to around 120 before finishing with Sublime's "Wrong Way" which is at 155.
Finally the mix includes a cool down song to help wrap up your workout: A mellow, rendition of the hip-hop track "Ice Cream Paint Job". What a fun song!
read less
If you're the kind of person that when someone asks "What kind of music do you listen to?" you answer "Everything!" then Mashup My Run has your name all over it. DJ Eric Love take rock songs, hip-hop songs & 80's songs and blends them together into a mix that will keep you guessing for a full 60 minutes making your run just fly by.

read more
| | | | |
| --- | --- | --- | --- |
| # | Track Title | Artist | Buy track |
| 1 | The Lion Sleeps Tonight | Tight Fit | |
| 2 | Teenage NeverLand (Diggz Remix) | The Who | |
| 3 | T.N.T (DJ Cobra Remix) | AC/DC | |
| 4 | No Beef (Scene 2008 Bootleg) | Afrojack ft. Steve Aoki | |
| 5 | Raise Your Glass (Vice & Riddler Remix) | Pink | |
| 6 | Rock the Hustlin (Spider Mash/ TrainRunners Refix) | Rick Ross vs. The Clash | |
| 7 | Paradise (Fedde Le Grand Remix) | Coldplay | |
| 8 | Roxanne (DiscoTech Remix) | The Police | |
| 9 | Livin On a Prayer (Benzi Edit) | Bon Jovi | |
| 10 | Hello | Martin Solveig | |
| 11 | Mr. Blurside (Alex Dreamz Mash) | Killers vs. Blur | |
| 12 | Born to Be Wild | Steppenwolf | |
| 13 | Young Folks | Peter Bjorn & John | |
| 14 | Neon Trees (TrainRunners Rework) | Animal | |
| 15 | Shake It | Metro Station | |
| 16 | C'mon C'mon (Rescue Me Theme Song) | Von Bondies | |
| 17 | Magic | B.O.B ft. Rivers Cuomo | |
| 18 | Bad Boys (Theme From Cops) | Inner Circle | |
| 19 | Bad Boys For Life | P. Diddy | |
| 20 | I Love Rock N Roll | Joan Jett | |
| 21 | Jack n Diane | John Mellencamp | |
| 22 | Tonight, Tonight | Hot Chelle Rae | |
| 23 | Mo Money Mo Problems | Biggie & Mase | |
| 24 | Buzzin | Mann | |
| 25 | FireFlies (Jason Nevins Cut) | Owl City | |
| 26 | Senior Skip Day | Mac Miller | |
| 27 | Get You Freak On vs. She Drives Me Crazy (Robin Skouteris Mix) | Missy Elliott vs. Fine Young Cannibals | |
| 28 | Should I Stay | The Clash | |
| 29 | Centerfold | J Geils Band | |
| 30 | Soul Man | Sam & Dave | |
| 31 | 4 Minutes | Madonna ft. Justin Timberlake & Timbaland | |
| 32 | Dance Dance | Fallout Boy | |
| 33 | Let it Rock | Kevin Rudolf ft. Lil Wayne | |
| 34 | Hella Good | No Doubt | |
| 35 | She Wants To Move | N.E.R.D | |
| 36 | How You Like Me Now | The Heavy | |
| 37 | Wrong Way | Sublime | |
| 38 | Ice Cream Paint Job (COOL DOWN TRACK) | The Cataracs | |