Fit it in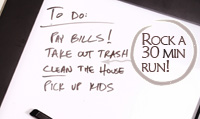 | | |
| --- | --- |
| Mix Name: | Fit it in |
| Mix DJ: | DJ Don Dada |
| Mix Genres: | House |
| Explict Lyrics: | No |
| Mix Length: | 30 minutes |
| Mix BPM: | 128 |
| Mix Rating: | ( 7 Votes ) |
| Share this awesome mix: | |
Mix Description
You have a half hour to get in a good run and want to get the best out of it. Pretend you're at the Jersey Shore but give your fists a rest and do some high quality foot pumping with this energetic club mix. Madonna's "Music" gets you to the front of the line while other club-worthy tunes follow her lead. By the time Robin's "Show Me Love" kicks in, you know you're good to go.
Taking you through the home stretch is the Bodyrockers, "I Like the Way You Move," which gives you just enough oomph to make the best out of the last few minutes.
A half hour run deserves just as much respect as an hour run. Do it right with DJ Don Dada.
read less
You have a half hour to get in a good run and want to get the best out of it. Pretend you're at the Jersey Shore but give your fists a rest and do some high quality foot pumping with this energetic club mix. Madonna's "Music" gets you to the front of the line while other club-worthy tunes follow her lead. By the time Robin's "Show Me Love" kicks in, you know you're good to go.

read more
| | | | | | | |
| --- | --- | --- | --- | --- | --- | --- |
| # | Track Title | Artist | Preview | BPM | MI | Buy track |
| 1 | Music (Cecena's Funky Organ Mix) | Madonna | | - | - | |
| 2 | Nu Nu | Lidell Townsell | | - | - | |
| 3 | Show Me Love Ft. Karina Chav | Robin S. | | - | - | |
| 4 | Call On Me | Eric Prydz | | - | - | |
| 5 | Illin N Fillin It (Malente Monsters Loose Remix) | Armand Van Helden | | - | - | |
| 6 | Say Whoa (Craze Remix) | A-Trak | | - | - | |
| 7 | Welcome to Jamrock (Pat Swayzak Remix) | Damien Marley | | - | - | |
| 8 | Let Me Think About It (Serafin remix) | Dj Serafin | | - | - | |
| 9 | Moombah (Afrojack Remix) | Silvio Ecomo & Chuckie | | - | - | |
| 10 | Young'n vs Gangsta Luv (Dj Kurch Blend) | Fabolous vs Snoop Dogg | | - | - | |
| 11 | I Wanna Know (refix) | Dj Steve1der | | - | - | |
| 12 | Ride Like The Wind (Klass Remix) | Michael Mind | | - | - | |
| 13 | I Like The Way You Move | Bodyrockers | | - | - | |
| 14 | Just Be Good To Me 2011 | Andeeno Damassy vs Lindy | | - | - | |