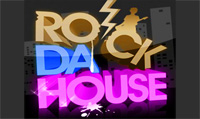 | | |
| --- | --- |
| Mix Name: | Rock Da House |
| Mix DJ: | DJ Little Fever |
| Mix Genres: | House, Rock |
| Explict Lyrics: | Yes |
| Mix Length: | 60 minutes |
| Mix BPM: | 143 |
| Mix Rating: | ( 24 Votes ) |
| Share this awesome mix: | |
Mix Description
For the classic rock running tunes cocktail, add equal parts of the following:

1. Samples from the leather-clad likes of KISS, ACDC, Bon Jovi, Van Halen, and Def Leppard

2. Some alternative hits from the Chili Peppers, Kings of Leon, Radiohead, Weezer, and more

3. True classics from the Beatles, Fleetwood Mac, and even the Doobie Brothers
Finally, add a dash of hip hop from Sir Mix-a-Lot, Nelly Furtado, and Tag Team. Shake it up to make it modern, and you have yourself a mix that knows rock and roll, but appreciates a bit of flavor.
A fresh tribute to the Eagles' Hotel California gets you started as it eases you into your run on a "dark desert highway." As you continue to visit the most nostalgic songs of your past, you can't help but lift your knees a little higher off the ground when you hear Mick Jagger asking you to start him up halfway through your run.
This mix is full of surprises, such as when Phil Collins and Nelly Furtado battle it out with a transition from Easy Lover to Man Eater. Nelly's voice is a welcome addition to the mix mostly dominated by powerful male voices.
The Foo Fighters', "I'll Be Around" polishes everything up as a cool down track, bringing you back to the 21st Century, and successfully rocking your hour long run.
read less
For the classic rock running tunes cocktail, add equal parts of the following:

1. Samples from the leather-clad likes of KISS, ACDC, Bon Jovi, Van Halen, and Def Leppard

2. Some alternative hits from the Chili Peppers, Kings of Leon, Radiohead, Weezer, and more

3. True classics from the Beatles, Fleetwood Mac, and even the Doobie Brothers

read more
| | | | | | | |
| --- | --- | --- | --- | --- | --- | --- |
| # | Track Title | Artist | Preview | BPM | MI | Buy track |
| 1 | HOTEL CALIFORNIA (DJ LITTLE FEVER LIVE REMIX)  | THE EAGLES | | - | - | |
| 2 | SCHOOL'S OUT FOR SUMMER (DJ DEVILLE REMIX) | Alice Cooper | | - | - | |
| 3 | The Final Countdown (Extended Mix)(Anthem Kingz) | Europe | | - | - | |
| 4 | Smells Like Teen Spirit (Dj G.Ros Cold Rmx) | Nirvana | | - | - | |
| 5 | WALK THE LINE (REMIX LAURENT WOLF FEAT AURI PS EXTENDED 2009) | Johnny Cash  | | - | - | |
| 6 | Roxanne (DiscoTech) | The Police | | - | - | |
| 7 | Prayer N Nite (The Hood Internet) | Bon Jovi Vs Kid Kudi  | | - | - | |
| 8 | C'Mon Feel The Noise (Serafin Remix) | Diplo, Tiesto, & Quiet Rioit | | - | - | |
| 9 | Pretty Fly For a White Guy (DJ LITTLE FEVER LIVE REMIX)  | Offspring  | | - | - | |
| 10 | Hair Of The Dog (Redz Remixxx)  | Nazareth | | - | - | |
| 11 | 1901 JimiRazz-ed-ited | Phoenix | | - | - | |
| 12 | China Grove  | Doobie Bros | | - | - | |
| 13 | Fade Out (Drastik Drum Edit) | Radiohead vs Jay-Z | | - | - | |
| 14 | Testify (Beef Theatre RMX) | Rage against the Machine; Beef Theatre | | - | - | |
| 15 | Photograph | Def Leppard | | - | - | |
| 16 | Start Me Up (Redz Remixxx)  | The Rolling Stones | | - | - | |
| 17 | Rock n roll star (DJ LITTLE FEVER LIVE REMIX)  | Oasis  | | - | - | |
| 18 | UP AROUND THE BEND (STARTING FROM SCRATCH RMX) (8)+(8) | CREEDENCE CLEARWATER REVIVAL | | - | - | |
| 19 | Sweet Whoomp [DJ Topcat] | Guns N' Roses vs. Tag Team | | - | - | |
| 20 | Jamies Got Back | Sir Mix A Lot Vrs Van Halen  | | - | - | |
| 21 | Shook Me All Night (Pella In JimiRazz-ed-ited) | AC/DC | | - | - | |
| 22 | Sharp Dressed Man   | ZZ Top | | - | - | |
| 23 | Everybody Have Fun Tonight (Benzi Personal Short Drum Edit) | Wang Chung | | - | - | |
| 24 | GO YOUR OWN WAY (STARTING FROM SCRATCH RMX) (8)+(8) | FLEETWOOD MAC  | | - | - | |
| 25 | Invisible Jay (Corey Jasper Mashup) | Jay vs. Genesis | | - | - | |
| 26 | I Was Made For Lovin' You (DJ LITTLE FEVER LIVE REMIX)  | KISS | | - | - | |
| 27 | Easy Maneater | Nelly Furtado vs Phil Collins | | - | - | |
| 28 | Song 2 JimiRazz (Pella Out Edit) | Blur | | - | - | |
| 29 | SUMMER OF 69 (JESTERDAMUS RMX) | BRYAN ADAMS  | | - | - | |
| 30 | Hold Your Hand 2010 Redrum | BEATLES  | | - | - | |
| 31 | Buddy Holly (DJ LITTLE FEVER LIVE REMIX)  | Weezer | | - | - | |
| 32 | Girl Like You Bmore | Urge Overkill | | - | - | |
| 33 | NO RAIN (THDP B'MORE MIX) (24) | BLIND MELON | | - | - | |
| 34 | Don't Stop Believing  | Journey | | - | - | |
| 35 | Mr. Brightside (DJ LITTLE FEVER LIVE REMIX)  | The Killers | | - | - | |
| 36 | Jump | Van Halen  | | - | - | |
| 37 | Sex On Fire (Diggz Personal Bootleg Edit) (With Hype) (1 Hook) (Drums Out) | Kings of Leon | | - | - | |
| 38 | Purple Haze (Benny Benassi Remix)  | Benny Benassi vs Hendrix | | - | - | |
| 39 | Blood Sugar Sex Magic (DJ LITTLE FEVER LIVE REMIX)  | Red Hot Chilli Peppers | | - | - | |
| 40 | I'll Stick around (DJ LITTLE FEVER LIVE REMIX)  | Foo Fighters  | | - | - | |