Bring it On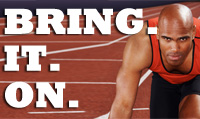 | | |
| --- | --- |
| Mix Name: | Bring it On |
| Mix DJ: | DJ Little Fever |
| Mix Genres: | House, Pop, Hip-hop, Dubstep |
| Explict Lyrics: | Yes |
| Mix Length: | 120 minutes |
| Mix BPM: | Tempo |
| Mix Rating: | ( 27 Votes ) |
| Share this awesome mix: | |
Mix Description
Given two hours of free time this weekend, some people will chose to sit in a movie theater watching Hunger Games and getting down with some buttered popcorn. You, on the other hand, are different.  You have plans, goals and big things to achieve!  You want to stretch those cramped up legs and give your body some respect.  This mix from DJ Little Fever, mixed with a little something called willpower, is all you need.
This elite mix that has something for everyone. A three minute sensual warm up builds up the suspense of what is yet to come. Your legs will be asking, "Can we go now?" Then when the tempo slaps you from behind, you will be telling them, "Yes!"  The hip hop flow carries you up stream with force and intention while you occasionally bump into some Top 40 blasts from the past.
Ending with a bang, you will find yourself wondering, "Is that all?" The answer is yes. You probably just ran a half marathon, or four 5k's if that sounds better. Either way, you rocked your run.
read less
Given two hours of free time this weekend, some people will chose to sit in a movie theater watching Hunger Games and getting down with some buttered popcorn. You, on the other hand, are different.  You have plans, goals and big things to achieve!  You want to stretch those cramped up legs and give your body some respect.  This mix from DJ Little Fever, mixed with a little something called willpower, is all you need.

read more
| | | | | | | |
| --- | --- | --- | --- | --- | --- | --- |
| # | Track Title | Artist | Preview | BPM | MI | Buy track |
| 1 | Climax (DJ LITTLE FEVER LIVE REMIX)  | Usher | | - | - | |
| 2 | Motivation (Short Edit) | Kelly Rowland & Lil Wayne | | - | - | |
| 3 | Somebody That I Used To Know Motivation (J.Espinosa Edit) | Gotye & Kimbra | | - | - | |
| 4 | The Show Goes On (Intro) Radio) | Lupe Fiasco | | - | - | |
| 5 | Why Stop Now Remix | Busta Rhymes, Chris Brown, Missy Elliot, & Lil Wayne | | - | - | |
| 6 | Hello (Rock-It! Scientists Remix) | Martin Solveig & Dragonette | | - | - | |
| 7 | Et (DJ LITTLE FEVER LIVE REMIX)  | Katy Perry | | - | - | |
| 8 | All I Do Is Win (Clean) (Intro)  | DJ Khaled ft T-Pain Ludacris Rick Ross and Snoop Dogg | | - | - | |
| 9 | Headlines (Benzi Super Edit - Quick Hitter) | Drake | | - | - | |
| 10 | Birthday Cake Remix | Rihanna & Chris Brown | | - | - | |
| 11 | Whip My Hair (Remix Intro) (Clean) | Willow ft Nicki Minaj | | - | - | |
| 12 | This Is Why Im Hot (DJ LITTLE FEVER LIVE REMIX)  | Mims | | - | - | |
| 13 | Good F***ing Night (DJ Dstar & DJ Heat Trans 80 to 129) | Roscoe Dash | | - | - | |
| 14 | Starships (BeatBreaker Edit) | Nicki Minaj | | - | - | |
| 15 | RATTLE IN A HOPELESS PLACE ( DJ LITTLE FEVER & MORSY HOPELESS REMIX) | The Bingo Players Ft Rihanna | | - | - | |
| 16 | Mr Culobeat (Remix Cartell Bootleg) | Alexander Stan & Pitbull | | - | - | |
| 17 | Temperature Americano (Greg J Remix) | Sean Paul | | - | - | |
| 18 | Not Over You - djGmani Remix | Gavin Degraw | | - | - | |
| 19 | Moves Like Jagger (Morsy Remix) | Maroon 5 | | - | - | |
| 20 | Ghetto Calabria (DJ Drumdiction's Bootleg) | Loopers vs. Enur | | - | - | |
| 21 | Calabria Kaduro (Starski Bootleg Remix) | Enur | | - | - | |
| 22 | Let Me See That Calabria (Jmac Edit Pella in )  | Sisqo  | | - | - | |
| 23 | Girls Wanna Have Fun (DJ Dstar & DJ Heat Bmore Remix) | Cindi Lauper | | - | - | |
| 24 | DJ GOT US FALLING IN LOVE (POLKA DOTS AFROJACK RMX) | USHER | | - | - | |
| 25 | I Wanna Dance With Somebody (Bad Boy Bill Remix) | Whitney Houston | | - | - | |
| 26 | I'm International B**** (Diggz Big Room Banger Edit) | Pitbull & Chris Brown | | - | - | |
| 27 | Heartbeat (DJ LITTLE FEVER LIVE REMIX)  | Childish Gambino | | - | - | |
| 28 | Turn Up The Toulouse (BeatBreaker Bootleg) | Chris Brown & Nicky Romero | | - | - | |
| 29 | Please Dont Stop The Music (DJ LITTLE FEVER LIVE REMIX)  | Rihanna | | - | - | |
| 30 | Champagne Showers (Keep That Drink In My Cup Intro) | LMFAO  | | - | - | |
| 31 | Oh Sheila (DJ LITTLE FEVER LIVE REMIX)  | Ready For The World  | | - | - | |
| 32 | Birthdays, S**, with Showers (Garebear Mashup) | LMFAO vs Jeremih  | | - | - | |
| 33 | Take Over Control (Extended Vocal Mix) | Afrojack & Eva Simons | | - | - | |
| 34 | Take over with Pumped Up Kicks (Dave Wrangler Take Over Control Remix) | Foster the People x Afrojack | | - | - | |
| 35 | The Time (Dirty Bit) (DJ LITTLE FEVER LIVE REMIX)  | The Black Eyed Peas | | - | - | |
| 36 | Pressure Rolling In The Deep (Mickey Fortune Edit) | Nadia Ali, Adele, & Alesso | | - | - | |
| 37 | N***** in Paris (Risk One Bounce) | Kanye West & Jay-Z | | - | - | |
| 38 | U Can't Touch This (DJ Ayres Edit) | MC Hammer & Big Sean | | - | - | |
| 39 | Cheers (Drink To That) (Intro Clean) | Rihanna  | | - | - | |
| 40 | Castle Levels In The Sky (Skrillex Remix - 914 Hit Squad Edit) | Avicii & Ian Van Dahl | | - | - | |
| 41 | Big in Japan (JimiRazz-edited Version 2 Pella In)  | Martin Solveig Feat Dragonette  | | - | - | |
| 42 | Give Me All Your Luvin (LMFAO Remix) | Madonna, LMFAO, & Nicki Minaj | | - | - | |
| 43 | Omg (DJ LITTLE FEVER LIVE REMIX)  | Usher Ft Will Iam | | - | - | |
| 44 | Eye Of The Tiger (Exclusive Lil' Jon Hype Mix!!) | Lil Jon Vs Survior  | | - | - | |
| 45 | Hotel California ((Serafin Calectro Mix)) | Eagles  | | - | - | |
| 46 | SUMMER OF 69 (JESTERDAMUS RMX) | BRYAN ADAMS  | | - | - | |
| 47 | Paradise (Only House Music Intro) | Coldplay  | | - | - | |
| 48 | Without You (DJ LITTLE FEVER LIVE REMIX)  | David Guetta Ft Usher  | | - | - | |
| 49 | Marry The Night (Diggz vs. Afrojack Mainstream Vocal Refix) | Lady Gaga | | - | - | |
| 50 | Party All Day (Benzi Personal Short Edit) | DJ Snake | | - | - | |
| 51 | You Make Me Feel (DJ LITTLE FEVER LIVE REMIX)  | Cobra Starship | | - | - | |
| 52 | Turn Me On (Beatbreaker Bmore Into House Edit) | David Guetta & Nick Minaj | | - | - | |
| 53 | I Like The Remix (BeatBreaker & Addict BMore Edit) | Pitbull & Enrique Iglesias | | - | - | |
| 54 | Kryptonite (Quality BMore Remix) | 3 Doors Down | | - | - | |
| 55 | Roxanne (DJ Cobra Edit) | The Police | | - | - | |
| 56 | Song 2 Knas (Joe Maz Remix) | Steve Angello & Blur | | - | - | |
| 57 | KNAS Go Girl (Party Ben Remix) | Pitbull & Steve Angello | | - | - | |
| 58 | Prayer N Nite (The Hood Internet) | Bon Jovi Vs Kid Kudi  | | - | - | |
| 59 | YOUNG FOLKS FLIRT (Whistle Song)  | PETER BJORN & JOHN V.S. R.KELLY, T-PAIN & T.I. | | - | - | |
| 60 | Lil Freak (DJ LITTLE FEVER LIVE REMIX)  | Usher, Nicki Minaj, & Keri Hilson | | - | - | |
| 61 | Anyway You Want It (Homicide Edit)  | Journey | | - | - | |
| 62 | Mickey | Toni Basil | | - | - | |
| 63 | Thats Not My Name (Mickey Toni Basil)  | The Ting Tings | | - | - | |
| 64 | Good Feeling Last Friday (Willy William Bootleg) | Flo-Rida Ft. Katy Perry | | - | - | |
| 65 | Good Feeling (Acoustic) | Flo-Rida Ft Avicii  | | - | - | |
| 66 | Look At Hip-Hop Now! (Justin James Remix) | Dead Prez & Chris Brown | | - | - | |
| 67 | Black And Yellow (MMP Intro) (Clean) | Wiz Khalifa ft J.A.E. | | - | - | |
| 68 | I'm Into You (Intro) Radio) | Jennifer Lopez Ft. Lil Wayne | | - | - | |
| 69 | Sleazy | Kesha | | - | - | |
| 70 | Teach Me How To Dougie | California Swag District | | - | - | |
| 71 | Epic Dougie (Serafin Remix) | Faith No More & Cali Swag District | | - | - | |
| 72 | Dream On (Joe Maz Edit) | Aerosmith | | - | - | |
| 73 | Hip Hop Hero Partybreak | Foghat | | - | - | |
| 74 | Dirt Off Your Shoulder Vs. Born To Die (Scott Melker Remix) | Jay-Z Vs. Lana Del Rey  | | - | - | |
| 75 | Big Poppa (Dennis Blaze Living Better Edit) | Jamie Foxx & The Notorious B.I.G. | | - | - | |
| 76 | 5 O CLOCK - VINYL SQUAD PLAYERS ANTHEM ReFIX | T PAIN FT WIZ KHALIFA | | - | - | |
| 77 | Ready or not (DJ LITTLE FEVER LIVE REMIX)  | Fugees | | - | - | |