This is Why You're Hot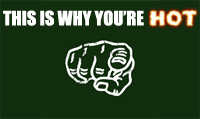 | | |
| --- | --- |
| Mix Name: | This is Why You're Hot |
| Mix DJ: | DJ Artistic |
| Mix Genres: | Rock, Pop, Hip-hop, Dubstep |
| Explict Lyrics: | Yes |
| Mix Length: | 120 minutes |
| Mix BPM: | Varies |
| Mix Rating: | ( 18 Votes ) |
| Share this awesome mix: | |
Mix Description
Serious inquiries only please. If you aren't serious about getting it done, this mix may be too dangerous for you. Move over if you're wogging, this is the passing lane and you're in our way.
Rock My Run newcomer DJ Artistic found the most in-your-face rap, hip-hop, and crunky funk from the past decade and splattered it all over the first chunk of this two hour mix, from Lil Jon to Lil Wayne. The Beastie Boys, Rihanna, and Eminem all make some strong appearances after the initial, "This is Why I'm Hot" gets you motivated by reminding you why you got that body of yours out of bed and laced up your kicks this morning.
Some sexy stamina from the likes of naughty Enrique Iglesias leads you toward the end of the first hour when you are hit by a futuristic, hyper transition. High-impact techno and house music suddenly takes you back to the 80's with Rick James, Michael Jackson, and Wang Chung. Then it gets kind of crazy when Skrillex leads into AC/DC, before Cali Swag District teaches you how to Dougie. This is where you take a breather because eventually, Lil Jon is yelling at you and you are being taken home by the electric Sub Focus.
This is going to be one of your favorite running mixes. Even if you are a novice runner, it will motivate you to passing lane status in no time.
read less
Serious inquiries only please. If you aren't serious about getting it done, this mix may be too dangerous for you. Move over if you're wogging, this is the passing lane and you're in our way.

read more
| | | | | | | |
| --- | --- | --- | --- | --- | --- | --- |
| # | Track Title | Artist | Preview | BPM | MI | Buy track |
| 1 | This is Why I'm Hot    |   Mims | | - | - | |
| 2 | Lose Yourself        |   Eminem | | - | - | |
| 3 | 6 Foot 7 Foot  |   Lil Wayne | | - | - | |
| 4 | Down On Me  |   Jermiah / 50 Cent | | - | - | |
| 5 | Live Your Life |   TI / Rihanna | | - | - | |
| 6 | Rude Boy |   Rihanna | | - | - | |
| 7 | Honey, I Crunk'd Tha Kidz  |   Freddy Todd | | - | - | |
| 8 | Regulate (The Polish Ambassador Remix)  |   Warren G & Nate Dogg | | - | - | |
| 9 | Bassnectar  |   Upside Down | | - | - | |
| 10 | Shutterbug (Mochipet Remix) |   Outkast | | - | - | |
| 11 | Arcadia / ABC (A skillz remix) |   Austin Speed, Jackson 5 | | - | - | |
| 12 | Go Ahead   | DJ Khaled / Lloyd / Fabulous / Rick Ross | | - | - | |
| 13 | Get Low |   Lil Jon | | - | - | |
| 14 | Sure Shot (The Polish Ambassador Remix)   | Beastie Boys | | - | - | |
| 15 | Lady (Hear Me Tonight)   | Modjo | | - | - | |
| 16 | Super Bass    | Nicki Minaj | | - | - | |
| 17 | Yeah 3X    | Chris Brown | | - | - | |
| 18 | Mister Saxobeat  |   Alexandra Stan | | - | - | |
| 19 | Tonight (I'm F**kin' You)   | Enrique Iglesias | | - | - | |
| 20 | Pon De Floor (Remix)  |   Major Lazer | | - | - | |
| 21 | Freak |   Bodybangers / Klaas | | - | - | |
| 22 | Werk Me  |   Hyper Crush | | - | - | |
| 23 | You Make Me Feel...  |   Cobra Starship | | - | - | |
| 24 | I Wanna Go   | Britney Spears | | - | - | |
| 25 | 75 Brazil Street  |   Pit Bull | | - | - | |
| 26 | The Island Part 1 & 2 (Dawn & Dusk) |   Pendulum | | - | - | |
| 27 | Bounce  |   Calvin Harris / Kelis | | - | - | |
| 28 | Pursuit of Happiness   | Kid Cudi | | - | - | |
| 29 | Pjanoo  |   Eric Prydz | | - | - | |
| 30 | Needy Girl (Paper Faces Mix) |   Chromeo | | - | - | |
| 31 | Super Freak  |   Rick James | | - | - | |
| 32 | PYT  |   Michael Jackson | | - | - | |
| 33 | Everyone Have Fun Tonight  |   Wang Chung | | - | - | |
| 34 | My Feelings For You  |   Avicii | | - | - | |
| 35 | Good Feeling  |   Flo Rida | | - | - | |
| 36 | Catgroove   | Parov Stelar | | - | - | |
| 37 | Don't Stop The Music (The Polish Ambassador) |    Rihanna | | - | - | |
| 38 | We Will Rock You (Remix)    | Queen | | - | - | |
| 39 | I Love Rock and Roll (Remix)  |   Joan Jett | | - | - | |
| 40 | Rock and Roll (Will Take You To The Mountain) |   Skrillex | | - | - | |
| 41 | Thunderstruck (Crookers Remix)  |   AC/DC | | - | - | |
| 42 | Dance (Ass)  |   Big Sean / Nicki Minaj | | - | - | |
| 43 | Strange Clouds  |   B.O.B. / Lil Wayne | | - | - | |
| 44 | Teach Me How To Dougie   | Cali Swag District | | - | - | |
| 45 | Good Life  |   Kanye West / T-Pain | | - | - | |
| 46 | Black and Yellow  |   Wiz Khalifa | | - | - | |
| 47 | Snap Yo Fingers |   Lil Jon / E-40 | | - | - | |
| 48 | Little Man (Remix)  |   Little Dragon | | - | - | |
| 49 | Flamenco   | Sub Focus | | - | - | |
| 50 | Rock It   | Sub Focus | | - | - | |