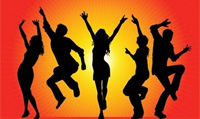 | | |
| --- | --- |
| Mix Name: | There's a Party in my Run |
| Mix DJ: | Mike Czech |
| Mix Genres: | Pop, Hip-hop |
| Explict Lyrics: | Yes |
| Mix Length: | 60 minutes |
| Mix BPM: | 128 |
| Mix Rating: | ( 37 Votes ) |
| Share this awesome mix: | |
Mix Description
There's a Party in my Run will have you grinning from ear to ear! This mix simply makes you feel…good. No miserable love songs, no angry metal - just good upbeat music that will leave you saying, "That was nice. Let's do this again sometime."
This 60 minute mix eases you into stride with the Black Eyed Peas, slowly increasing in tempo until Pink requests that you Get This Party Started. You oblige while LMFAO, Lady Gaga, Nicki, and Britney all join in, running alongside of you.
Putting extra spring in your step is Flo-Rida's Good Feelin' 36 minutes in, reinforced by a pumped up version of Foster the People's infamous Pumped up Kicks. Now you're in the real meat of the mix when you hear a trace of something very familiar in Pitbull's Give Me Everything. Hint: it will take you back to 1979 (or maybe just back to the last wedding you attended).
Gotye and Katy Perry lead you to your last mile where Skrillex is waiting. You cannot help but turn up the volume when Breakn' a Sweat makes you want to push a little bit harder before cooling down with Drake and Lil Wayne.
There's a Party in my Run leaves you feeling like you were at a party, but without the hangover.
read less
There's a Party in my Run will have you grinning from ear to ear! This mix simply makes you feel…good. No miserable love songs, no angry metal - just good upbeat music that will leave you saying, "That was nice. Let's do this again sometime."

read more
| | | | | | | |
| --- | --- | --- | --- | --- | --- | --- |
| # | Track Title | Artist | Preview | BPM | MI | Buy track |
| 1 | Just Can't Get Enough | Black Eyed Peas | | - | - | |
| 2 | Get This Party Started | Pink | | - | - | |
| 3 | We Found Love (DJ Greg J EDIT) | Rihanna ft. Calvin Harris | Track preview unavailable | - | - | |
| 4 | International Love (Clinton Sparks / The DiscoFries Remix) | Pitbull ft. Chris Brown | | - | - | |
| 5 | Set Fire To The Rain (Thomas Gold Remix) | Adele | | - | - | |
| 6 | Sexy And I Know It | LMFAO | | - | - | |
| 7 | Without You | David Guetta ft. Usher | | - | - | |
| 8 | Edge Of Glory (Isaac   Jordan Club Edit) | Lady Gaga | | - | - | |
| 9 | Wild Ones | Flo-Rida ft. Sia | Track preview unavailable | - | - | |
| 10 | Turn Up The Music | Chris Brown ft. Rihanna | | - | - | |
| 11 | Moves Like Jagger | Maroon 5 ft. Christina Aguilera | | - | - | |
| 12 | Teenage Dream (Kaskade Remix) | Katy Perry | | - | - | |
| 13 | Fly (It's The DJ Kue Remix!) | Nicki Minaj ft. Rihanna and Metafisix | | - | - | |
| 14 | I Wanna Go | Britney Spears | | - | - | |
| 15 | Good Feelin | Flo-Rida | | - | - | |
| 16 | Pumped Up Kicks (Risk One Bootleg) | Foster The People | | - | - | |
| 17 | Give Me Everything (Mike B's iLL. Edit) | Pitbull ft. Ne-Yo, Afrojack & Nayer | | - | - | |
| 18 | Don't Stop 'Til You Get Enough (Gigamesh Remix) | Michael Jackson | | - | - | |
| 19 | Take Care (Junior Sanchez Really Cares House Mix) | Drake ft.. Rihanna | | - | - | |
| 20 | Somebody That I Used To Know (HYPER CRUSH REMIX) | Gotye ft. Kimbra | | - | - | |
| 21 | Hot 'N' Cold (LMFAO Remix) | Katy Perry | | - | - | |
| 22 | Breakn' A Sweat (Zedd Remix) | Skrillex ft. The Doors | | - | - | |
| 23 | I'm On One | Drake & Lil Wayne | | - | - | |