Run The World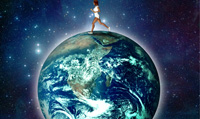 | | |
| --- | --- |
| Mix Name: | Run The World |
| Mix DJ: | DJ Little Fever |
| Mix Genres: | House, Pop, Hip-hop, Dubstep |
| Explict Lyrics: | Yes |
| Mix Length: | 60 minutes |
| Mix BPM: | 134 |
| Mix Rating: | ( 17 Votes ) |
| Share this awesome mix: | |
Mix Description
Feel like you run the world with a mix designed to keep you going no matter what gets in your way.  Though you may know the songs in this mix, Little Fever surprises you with some unique remixes to help keep them fresh!
Madonna starts it off, helping you "Get into the Groove" while an "Eye of the Tiger" remix picks up where she leaves off. (Who isn't inspired by Rocky?) From there, familiar hits bring you up to speed: e.g., Far East Movement, Lady Gaga, and Chris Brown. By the time the Black Eyed Peas kick in, you will be running on autopilot.
A climax comes at about 18 minutes in when you are met with Beyonce's "Run the World" featuring  a Jay Z cameo, inspiring you to kick it into high gear.
Britney, Nicki, and Ke$ha keep things going with help from guys like Usher, Sean Paul, and Pitbull. Rounding out your run at the end is a Train/Maroon 5 Mix that takes it down just a notch to let you know that the end is near, but not before Sisqo asks if he can see your thong. Whether or not you oblige, The Village People will take it home with a familiar YMCA tribute, that will either have you pumping your fists or ready to quit, depending on your state of delirium.
read less
Feel like you run the world with a mix designed to keep you going no matter what gets in your way.  Though you may know the songs in this mix, Little Fever surprises you with some unique remixes to help keep them fresh!

read more
| | | | | | | |
| --- | --- | --- | --- | --- | --- | --- |
| # | Track Title | Artist | Preview | BPM | MI | Buy track |
| 1 | Get Into The Groove (DJ LITTLE FEVER LIVE REMIX) | Madonna | | - | - | |
| 2 | EYE OF THE TIGER - HOUSE ReFIX | SURVIVOR | | - | - | |
| 3 | Backseat (Intro) | The New Boyz ft The Cataracs and Dev | | - | - | |
| 4 | Better With The Paparazzi Off (Stelmix 4' Mashup) | New Boyz vs. Lady Gaga vs. City High vs. Black Eyed Peas | | - | - | |
| 5 | Like A G6 (DJ LITTLE FEVER LIVE REMIX) | Far East Movement f. The Cataracs & Dev | | - | - | |
| 6 | Better With The Lights Off (914 Squad Remix) | New Boyz & Chris Brown | | - | - | |
| 7 | The Time (Dirty Bit) (Scene Heaven On Earth Edit) | Black Eyed Peas | | - | - | |
| 8 | Barbara Streisand (Intro Edit) | Duck Sauce | | - | - | |
| 9 | Last Friday Night Turned around (DJ Dstar & DJ Heat Edit) | Katy Perry & Flo-Rida | | - | - | |
| 10 | Turn Around (Pt 2) | Flo-Rida Ft. Pitbull | | - | - | |
| 11 | All I Do Is Win Hands (DJ Mad Remix) | DJ Khaled | | - | - | |
| 12 | Run The World (Diggz Hype Edit) | Beyonce & Jay-Z | | - | - | |
| 13 | Blow Remix (DJ LITTLE FEVER LIVE REMIX) | Kesha & B.o.B. | | - | - | |
| 14 | Temperature Americano (Greg J Remix) | Sean Paul | | - | - | |
| 15 | Little Bad Girl (DJ LITTLE FEVER LIVE REMIX) | David Guetta, Taio Cruz, & Ludacris | | - | - | |
| 16 | Only Girl (In The World) | Rihanna | | - | - | |
| 17 | I Like It | Pitbull Ft. Enrique Iglesias | | - | - | |
| 18 | HIT THE LIGHTS | JAY SEAN FT. LIL WAYNE | | - | - | |
| 19 | Take Over Control (Extended Vocal Mix) | Afrojack & Eva Simons | | - | - | |
| 20 | HELLO (DJ LITTLE FEVER LIVE REMIX) | MARTIN SOLVEIG & DRAGONETTE | | - | - | |
| 21 | Sexy & I Know It (Short Edit) | LMFAO | | - | - | |
| 22 | Yeah 3X (Serafin Remix) | Chris Brown | | - | - | |
| 23 | Dirty Dancer (DJ Vice Remix) | Enrique Iglesias, Usher, & Lil Wayne | | - | - | |
| 24 | How Low (DJ LITTLE FEVER LIVE REMIX) | Ludacris | | - | - | |
| 25 | On The Floor | Jennifer Lopez Ft Pitbull | | - | - | |
| 26 | Stay Fly On The Floor (K0ntr0l Mash) | Three 6 Mafia Ft. Young Buck, 8ball & Mjg Vs. Jennifer Lopez | | - | - | |
| 27 | Hold it against me (DJ LITTLE FEVER LIVE REMIX) | Britney Spears | | - | - | |
| 28 | Til The World Ends (Remix) | Britney Spears, Nicki Minaj, & Kesha | | - | - | |
| 29 | Sometimes I Get a Good R Kelly (Garebear's 31 Mashup) | Avicii & Skrillex vs R Kelly | | - | - | |
| 30 | I Can't Stop (DJA & Benzi Super Edit) | Kanye West, Flux Pavillion, & Jay-Z | | - | - | |
| 31 | DJ GOT US FALLING IN LOVE (POLKA DOTS AFROJACK RMX) | USHER | | - | - | |
| 32 | Around The World (Electro Rework 2009) | Dj BeatBreaker vs. Daft Punk | | - | - | |
| 33 | WITHOUT ANTIDOTE (DJ LITTLE FEVER iRock BLEND) | SWEDISH HOUSE MAFIA VS KNIFE PARTY FT USHER | | - | - | |
| 34 | How We Do It (Morsy Remix) | Montell Jordan | | - | - | |
| 35 | Hey, Soul Sister (Morsy Remix) | Train | | - | - | |
| 36 | Moves Like Jagger (Morsy Remix) | Maroon 5 | | - | - | |
| 37 | Let Me See That Calabria (Jmac Edit Pella in ) | Sisqo | | - | - | |
| 38 | Calabria Kaduro (Starski Bootleg Remix) | Enur | | - | - | |
| 39 | CALABRIA Y.M.C.A. (DJ LITTLE FEVER LIVE REMIX) | ENUR FT THE Village People | | - | - | |