Fantastic Voyage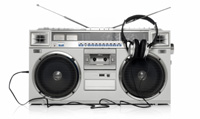 | | |
| --- | --- |
| Mix Name: | Fantastic Voyage |
| Mix DJ: | DJ Eric Love |
| Mix Genres: | 80s, Oldies, 90s |
| Explict Lyrics: | No |
| Mix Length: | 30 minutes |
| Mix BPM: | 130 |
| Mix Rating: | ( 13 Votes ) |
| Share this awesome mix: | |
Mix Description
If you were alive in the late '70s and early '80s, you remember the impact your favorite songs had on you when you heard them on the radio the first few times. You couldn't just download them with the click of a mouse to listen to when you pleased: you had to by the tape or request it on the radio. Take a trip back to those days with 30 minutes of nostalgia from bell bottoms to leg warmers.
The haunting opening to Prince's "Little Red Corvette" used to trigger an instant, "Turn it up!" and still does, as it launches you into your run. Following is some classic Janet ("When I Think of You") and Michael ("Shake Your Body Down to the Ground"). From then on, you get a fun variety of R&B and Disco from Earth, Wind, and Fire; Lakeside ("Fantastic Voyage"); Soul II Soul; KC & the Sunshine Band; Debbie Deb ("When I Hear Music"); and Wild Cherry. In the midst of it all is a surprise from the current, Ting Tings, with their "Great DJ," which fits right in.
Rounding out your run is some more Prince and a couple club hits, like "Lady," by Richard Grey. With music that reminds you of Friday nights at the club, this mix wants to buy you a drink. No need to dig up your old cassette tapes, 8-tracks, and records – "Fantastic Voyage" has what you need.
read less
If you were alive in the late '70s and early '80s, you remember the impact your favorite songs had on you when you heard them on the radio the first few times. You couldn't just download them with the click of a mouse to listen to when you pleased: you had to by the tape or request it on the radio. Take a trip back to those days with 30 minutes of nostalgia from bell bottoms to leg warmers.

read more
| | | | | | | |
| --- | --- | --- | --- | --- | --- | --- |
| # | Track Title | Artist | Preview | BPM | MI | Buy track |
| 1 | Little Red Corvette | Prince | | - | - | |
| 2 | When I think of You | Janet Jackson | | - | - | |
| 3 | Don't Stop Till You Get Enough (Gigamesh Remix | Michael Jackson | | - | - | |
| 4 | Boogie Wonderland | Earth, Wind & Fire | | - | - | |
| 5 | Shake Your Body Down to the Ground | Michael Jackson | | - | - | |
| 6 | In the Name of Love | Kurtis Blow | | - | - | |
| 7 | Fantastic Voyage | Lakeside | | - | - | |
| 8 | Back To Life (Vice & Riddler Remix) | Soul II Soul | | - | - | |
| 9 | Great DJ (Calvin Harris Remix) | The Ting Tings | | - | - | |
| 10 | When I Hear Music | Debbie Deb | | - | - | |
| 11 | Keep it Comin Love | KC & The Sunshine Band | | - | - | |
| 12 | Play that Funky Music | Wild Cherry | | - | - | |
| 13 | You Got Me | Second City Rhythm | | - | - | |
| 14 | Can't Shake This Feeling (DCUP Remix) | GRUM | | - | - | |
| 15 | 1999 | Prince | | - | - | |
| 16 | Lady (Federico Scavo Remix) | Richard Grey | | - | - | |
| 17 | My Feelings for You (Treasure Fingers) | Avicii & Sebastien Drums | | - | - | |