DJ PJ
DJ PJ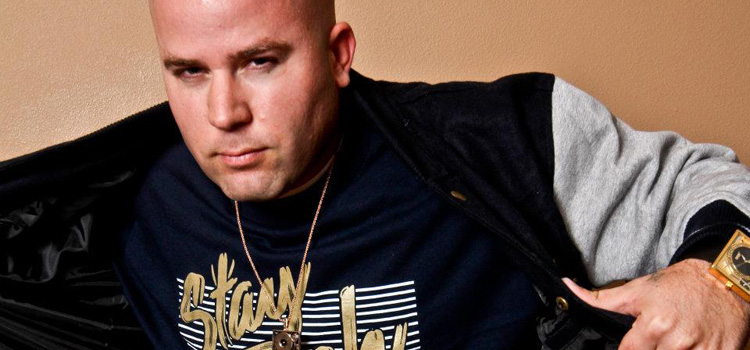 Mixes
About
DJ PJ is one of the founding members of the world famous mixicans dj crew...


Born - philip junior (p.J.) october 6th, 1980, in southern california into a musical family, pj has always been around music as his mother & family (the evaro's) are some of the palm springs areas top entertainers.
As he started high school the breakdancing and dj scratch battle scene was growing. He practiced everyday with friends that already had dj equipment and started saving for his own gear. His mother moved him and his siblings to san diego. His sophmore year in high school he had already competed in numerous dj battles from san diego to the los angeles area.
By the end of the 10th grade school year pj had started dj'ing parties and began learning radio mix show formatics with z-90 mixer "dj c-nice."
In 1999, pj was back in palm springs and applied for a new station to the market: kkuu - u92.7 (hip-hop & r&b). He landed a position on the street team and quickly showed his skills on the turntables and was offered a mix-show slot on saturday nights that evolved into a monday thru friday mixshow on the pacman nightshow.
That gig ended but he fulfilled his addiction and landed another radio job on the competing station kpsi - power 100.5 (top 40). And immediately impressed program director craig michaels who gave pj his own mix-show to host & mix called "the friday night house party," as well as co-hosting a morning show with "kid corona," who taught pj production skills and from there pj loved and was involved with just about every part of the radio business.
In 2002, he took on a production and imaging position with kmrj - m99.5 (modern rock). And then in 2003 he left the palm springs market and jumped on the mic at kseq - q97 (hip-hop & r&b/top 40) in fresno with program director tommy del rio who helped to mold pj into a great on-air personality.
In 2005, pj was feeling the need to take his dj skills and radio talent to the next level and headed to las vegas where he immediately caught the attention of kveg - hot 97.5 (hip-hop & r&b) program director sherita saulsberry. He was offered a position on-air as well as the title of production/imaging director. With this position as his foundation to start the las vegas dj life, pj began djing in major casino's, concerts, and shows all over las vegas.
In 2007, pj had his first son and relocated to palm springs, california to start his new family closer to the rest of his family. He is currently working as nightshow host monday thru friday (6pm-10pm pst) at u-92.7 kkuu as well as tackling all of the audio production responsibilities for the radio station.
You can also find him at zeldas nightclub where he is resident dj thursday, friday & saturday in beautiful downtown palm springs...
For Bookings: bookings@mixicans.com
:::TWITTER:::
@DJPJLIVE
@THE_MIXICANS
Contact Information
Email: Send email to DJPJ
Web site: http://www.DJPJLIVE.com
http://www.MIXICANS.com