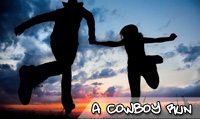 | | |
| --- | --- |
| Mix Name: | A Cowboy Run |
| Mix DJ: | DJ Eric Love |
| Mix Genres: | Country |
| Explict Lyrics: | Yes |
| Mix Length: | 30 minutes |
| Mix BPM: | Tempo |
| Mix Rating: | ( 37 Votes ) |
| Share this awesome mix: | |
Mix Description
Ditch the running shoes in favor of boots, exchange your visor for a cowboy hat and make sure your running shorts come with a belt buckle - DJ Eric Love has produced another kickin' country mix for your next run! Note: This mix is labeled explicit, though only for the use of the word "a**".
With "A Cowboy Run" Eric Love has mixed together some classic country tracks with some more recent hits to give you a well rounded, fun-filled run.  The mix starts off with about 5 mins of slower tracks that are perfect for warming up and getting your 30 minute run off on the right foot (pun totally intended).
After the warm up, the mix tempo starts to pick up and when Carrie Underwood's "Last Name" comes on, you know its time to pick up the pace.  From the 10 min mark to about the 20 min mark, the tracks are all about the Cowboy life and will have your head bobbing while your legs are churning.
The last 10 mins of the mix pick up the pace even further and include classics from Alan Jackson, Bonnie Raitt and the immortal Juice Newton.  The mix caps off with a quick dip in energy with Bonnie Raitt, before closing with a high-energy song from Luke Bryan.  Consider it a rest break before the big finish to a fun run!
read less
Ditch the running shoes in favor of boots, exchange your visor for a cowboy hat and make sure your running shorts come with a belt buckle - DJ Eric Love has produced another kickin' country mix for your next run! Note: This mix is labeled explicit, though only for the use of the word "a**".

read more
| | | | | | | |
| --- | --- | --- | --- | --- | --- | --- |
| # | Track Title | Artist | Preview | BPM | MI | Buy track |
| 1 | Picking Wildflowers | Keith Anderson | | - | - | |
| 2 | Hillbily Delux | Brooks & Dunn | | - | - | |
| 3 | Got My Country On | Chris Cagle | | - | - | |
| 4 | Last Name | Carrie Underwood | | - | - | |
| 5 | Kenny Chesney | Feel Like a Rockstar | | - | - | |
| 6 | Somethin Bout a Truck | Kip More | | - | - | |
| 7 | Kiss My Country Ass | Blake Shelton | | - | - | |
| 8 | 8 Second Ride | Jake Owen | | - | - | |
| 9 | Queen of Hearts | Juice Newton | | - | - | |
| 10 | Buy me a Mercury | Alan Jackson | | - | - | |
| 11 | Banjo | Rascal Flatts | | - | - | |
| 12 | Somethin to Talk About | Bonnie Raitt | | - | - | |
| 13 | Little Bit Later On | Luke Bryan | | - | - | |