DJ Ky
DJ Ky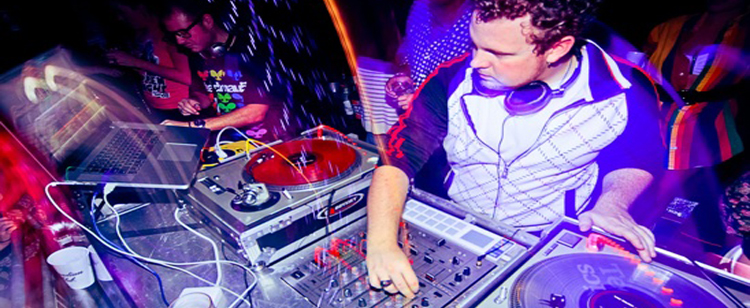 Mixes
About
DJ Ky is a true party rockin' mashup juggler that has over 10 years of experience.  DJ Ky debuts his versatility every time he hits the stage for his ever changing university and college clientele.  He is the inventor of remixes in the North, as his signature pieces are unforgettable and shocking every time they are heard.  Expect to be hit with a unique blend of Top 40, Hip Hop, Rock, Reggae and Old Skool, all mixed in a unique way that keeps the energy level high.  He knows how to keep his crowd moving and the party going all night long with his creative, and in your face, mixing style.

Being well versed in many different genres of music, DJ Ky has had the opportunity and pleasure of opening for some of the biggest DJs and artists, including; Steve Aoki, JFK of MSTRKRFT, Kardinal Offishall and Classified, as well as, DJing parties hosted by The Rascalz and MTVs Dan & Jessi.

Over the past 5 years, DJ Ky has held a residency two nights a week at The Wall in North Bay, ranked #2 in the country by globe and mail.  It was here the he was really able to gain an understanding of how to rock a party from open to close, and keep people moving all night long.

DJ Ky has just finished recording his follow up Mixtape to the successful and popular, Party Party Party Let's All Get Wasted series.  This Mixtape series is full of high energy club tracks, along with many exclusive DJ Ky remixes, that you can expect to hear him play while your on the run.

Music is something that he has been very passionate about his whole life.  DJing is an art form that he takes very seriously and he takes much pride in what he can do with it.  He started DJing and still DJs today because it is something that he is truly passionate about and loves to do.
DJ Ky's latest tweets
13 Feb 2013
We didn't recognize you w/ that beauty cookie duster. @buonomo20 Do u give #MustacheRides in the parking lot after games? Haha
9 Feb 2013
Rockin it in Gatineau tonight! Sick venue!
29 Jan 2013
Finally coming home! Been a long and scary time but happy it's gonna be business as usual.