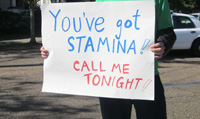 | | |
| --- | --- |
| Mix Name: | Sustained Stamina |
| Mix DJ: | Lloyd |
| Mix Genres: | House, Pop |
| Explict Lyrics: | Yes |
| Mix Length: | 120 minutes |
| Mix BPM: | 130 |
| Mix Rating: | ( 34 Votes ) |
| Share this awesome mix: | |
Mix Description
You set out on a run, not knowing if it is going to be respectable or disappointing. You go through the motions as your legs are still waking up, thinking about the things you need to do when you get home, as well as the things you should have done yesterday. As your body finds its rhythm, your concerns evaporate. You don't realize it until it is over, but you were in a trance-like state as you finished your run with a clear mind, ready to tackle anything. It was like someone hit cruise control and your only job was to steer.
This mix is your cruise control button. Sustained Stamina is 2 hours of current pop and dance hits, dotted with bits of instrumental house bits that let your mind disappear into that coveted trance.  Like the painted traffic lines that keep you in your lane as you're driving, power hits pop up on a regular basis to keep you focused.
Starting things off is Journey's "Don't Stop Believing" mashed up with Usher's "Without You" as you find the pace that works best for you. Kelly Clarkson and Katy Perry provide just enough of a push before you disappear into a tastefully blended mix that sets your stamina for 2 full hours.
While the typical chart toppers provide you will their familiar power, artists like Robyn, Swedish House Mafia, Roll Deep, and Sak Noel keep your run from getting too familiar. Florence & the Machine's "Shake it Out" is one of the many highlights toward the end of this mix to keep you going strong all the way through to Chris Brown's "Turn Up the Music."
Sustained Stamina gives you a steady 130 bpm and a consistently reliable flow of music for a respectable 2 hour run.
read less
You set out on a run, not knowing if it is going to be respectable or disappointing. You go through the motions as your legs are still waking up, thinking about the things you need to do when you get home, as well as the things you should have done yesterday. As your body finds its rhythm, your concerns evaporate. You don't realize it until it is over, but you were in a trance-like state as you finished your run with a clear mind, ready to tackle anything. It was like someone hit cruise control and your only job was to steer.

read more
| | | | | | | |
| --- | --- | --- | --- | --- | --- | --- |
| # | Track Title | Artist | Preview | BPM | MI | Buy track |
| 1 | Journey Without You (3LAU & Acetronik Mashup) | Journey & Guetta feat Usher | | - | - | |
| 2 | Stronger (What Doesn't Kill You) (7th Heaven Radio Mix) | Kelly Clarkson | | - | - | |
| 3 | Firework (Jump Smokers Remix) | Katy Perry | | - | - | |
| 4 | Calling (This Is My Life) Remix | Sebastian Ingrosso & Alesso feat Clinton Sparks | | - | - | |
| 5 | Titanium (Nicky Romero Remix) | David Guetta ft Sia | | - | - | |
| 6 | Green Light | Roll Deep | | - | - | |
| 7 | Hang With Me (Avicii Remix) | Robyn | | - | - | |
| 8 | More (Redone Jimmy Joker Remix) | Usher | | - | - | |
| 9 | Good Feelin' (Video Version) | Flo Rida | | - | - | |
| 10 | Save The World (Remix) | Swedish House Mafia | | - | - | |
| 11 | Blessed (Avicii Edit) | Tom Hangs feat Shermanology | | - | - | |
| 12 | Starships | Nicki Minaj | | - | - | |
| 13 | Radioactive | Marina & The Diamonds | | - | - | |
| 14 | Somebody That I Used To Know | Gotye feat Kimbra | | - | - | |
| 15 | One (Original Mix) | Swedish House Mafia | | - | - | |
| 16 | Run The World (Girls) | Beyonce | | - | - | |
| 17 | Turn Around (5 4 3 2 1) | Flo Rida | | - | - | |
| 18 | I'm in Love | Alex Gaudino | | - | - | |
| 19 | Beautiful People (Disco Fries Remix) | Chris Brown feat Benny Benassi | | - | - | |
| 20 | Lay The Sunshine On Me | Jeff Rowe (ft. David Guetta, Avicii, Kelly Rowland and Big Sean) | | - | - | |
| 21 | Feel So Close | Calvin Harris | | - | - | |
| 22 | Walking On A Dream | Empire Of The Sun | | - | - | |
| 23 | Release Me | Agnes | | - | - | |
| 24 | What A Feeling | Alex Guadino feat Kelly Rowland | | - | - | |
| 25 | Give Me Everything | Pitbull feat Ne-Yo, Afrojack & Nayer | | - | - | |
| 26 | Sweat | Snoop Dogg vs. David Guetta | | - | - | |
| 27 | Party Rock Anthem | LMFAO feat Lauren Bennett & Goonrock | | - | - | |
| 28 | Yeah 3x | Chris Brown | | - | - | |
| 29 | The Time (The Dirty Bit) | Black Eyed Peas | | - | - | |
| 30 | Danza Kuduro (Konvict Remix) | Don Omar feat Akon | | - | - | |
| 31 | Where Have You Been (Martin & Souza Radio Edit) | Rihanna | | - | - | |
| 32 | Whip It | Nicki Minaj | | - | - | |
| 33 | Dance Again | Jennifer Lopez feat Pitbull | | - | - | |
| 34 | We Found Love | Rihanna | | - | - | |
| 35 | Little Bad Girl (Instrumental) | David Guetta | | - | - | |
| 36 | Little Bad Girl | David Guetta feat Taio Cruz, Ludacris | | - | - | |
| 37 | Wild Ones (Sex Ray Vision Remix) | Flo Rida feat Sia | | - | - | |
| 38 | I Wanna Go | Britney Spears | | - | - | |
| 39 | Midnight Run (Funkagenda Remix) | Example | | - | - | |
| 40 | Don't Stop The Party | Black Eyed Peas | | - | - | |
| 41 | Loca People | Sak Noel | | - | - | |
| 42 | Hasta Que Salga El Sol | Don Omar | | - | - | |
| 43 | Sexy and I Know It | LMFAO | | - | - | |
| 44 | Rain Over Me | Pitbull feat Marc Anthony | | - | - | |
| 45 | Suavemente | Nayer feat Pitbull and Mohombi | | - | - | |
| 46 | There She Goes | Taio Cruz feat Pitbull | | - | - | |
| 47 | On The Floor | Jennifer Lopez feat Pitbull | | - | - | |
| 48 | C'mon | Tiesto vs. Diplo | | - | - | |
| 49 | She Makes Me Wanna | JLS feat Dev | | - | - | |
| 50 | Set Fire To The Rain (Thomas Gold Remix) | Adele | | - | - | |
| 51 | Shake It Out (Benny Bennassi Remix) | Florence & The Machine | | - | - | |
| 52 | Let's Go | Calvin Harris feat Neyo | | - | - | |
| 53 | Automatic | Nicki Minaj | | - | - | |
| 54 | Turn Up The Music | Chris Brown | | - | - | |