Eccentric Energy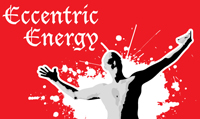 | | |
| --- | --- |
| Mix Name: | Eccentric Energy |
| Mix DJ: | DJ Little Fever |
| Mix Genres: | House, Pop, Hip-hop, 90s |
| Explict Lyrics: | Yes |
| Mix Length: | 60 minutes |
| Mix BPM: | 142 |
| Mix Rating: | ( 27 Votes ) |
| Share this awesome mix: | |
Mix Description
You're a rather cool cat: listening to the latest music and shopping at the same stores your 14 year-old neighbor frequents. But there is a little tiny dork inside of you, just dying to come out once in a while. It's time to dig out your old Star Wars t-shirt, pull your socks up to your knees, and let that goofball run loose!  Eccentric Energy gives you an intense but crazy fun mix of pop, rock and even a touch of disco - all blended with some fast-paced techno beats to keep you moving at a powerful pace.
Starting out strong is Lady Gaga: intrinsically odd but always entertaining.  She'll have running from the "Paparazzi" at 144 bpm – who needs a warm-up anyway? Foster the People, Afrojack, and Soulja Boy are a few of the cool kids that actually show up to your party during the first 15 minutes, all tastefully fused with classic club hits like Eiffel 65's "Blue." After that, Lil Jon will really get you going with an "Eye of the Tiger" mash-up as he hollers through your ear buds.
Then the trip back in time begins: a highlight being Run DMC's "Tricky." At the half hour mark, things get awesomely eccentric with some crazy variety that takes you to back to '80s rock and '70s disco, all revamped for speed. Have you ever heard The Village People do dubstep? Have you ever run from the dark side with Darth Vader? You can now, you little freak! If you find yourself needing just a little rock music, you'll be pleased but surprised to hear Boston fused with Black Eyed Peas and Metallica mashed with Beyonce &Lady Gaga during the last 10 minutes. Alice Cooper, Bryan Adams, and Oasis take you home as you end with the taste of rock in your mouth.
Despite its playfulness, this is a fast-paced, energetic mix for those who aren't afraid to let loose and be tenaciously tough.
read less
You're a rather cool cat: listening to the latest music and shopping at the same stores your 14 year-old neighbor frequents. But there is a little tiny dork inside of you, just dying to come out once in a while. It's time to dig out your old Star Wars t-shirt, pull your socks up to your knees, and let that goofball run loose!  Eccentric Energy gives you an intense but crazy fun mix of pop, rock and even a touch of disco - all blended with some fast-paced techno beats to keep you moving at a powerful pace.

read more
| | | | | | | |
| --- | --- | --- | --- | --- | --- | --- |
| # | Track Title | Artist | Preview | BPM | MI | Buy track |
| 1 | Paparazzi (DJ LITTLE FEVER LIVE REMIX) | Lady Gaga | | - | - | |
| 2 | Take Over Control (Extended Vocal Mix) | Afrojack & Eva Simons | | - | - | |
| 3 | Take over with Pumped Up Kicks (Dave Wrangler Take Over Control Remix) | Foster the People x Afrojack | | - | - | |
| 4 | Sweet Mix (Is Made of These) (DJRi Intro/Outro Break Fix) | Robin Skouteris | | - | - | |
| 5 | The Bad Touch | The Bloodhound Gang | | - | - | |
| 6 | Clap Your Hands (DJ LITTLE FEVER LIVE REMIX) | Kurtis Blow | | - | - | |
| 7 | Blue | Eiffel 65 | | - | - | |
| 8 | Pretty Boy Swag (DJ LITTLE FEVER LIVE REMIX) | Soulja Boy | | - | - | |
| 9 | Sugar (Intro) (Clean) | Flo Rida ft Wynter Gordon | | - | - | |
| 10 | Pon De Floor [Joe Maz of DiscoTech's 1992 Bootleg] | Major Lazer | | - | - | |
| 11 | SUAVEMENTE (HOUSE REMIX) | ELVIS CRESPO | | - | - | |
| 12 | Party Rock Anthem (DJ NASA Surrprice Latin Edit) | LMFAO | | - | - | |
| 13 | Eye Of The Tiger (Exclusive Lil' Jon Hype Mix!!) | Lil Jon Vs Survior | | - | - | |
| 14 | Give it all you got | Lil Jon Ft Kree | | - | - | |
| 15 | It's Tricky | Run DMC | | - | - | |
| 16 | I Got It From My Mama (Sound Junkies Mash-Up) | Will I Am feat Jackson 5 | | - | - | |
| 17 | Love me or hate me (DJ LITTLE FEVER LIVE REMIX) | Lady Sovereign | | - | - | |
| 18 | Take Me Home | BEP vs Phil Collins | | - | - | |
| 19 | 4 My People (Remix) '02 | Missy Elliott | | - | - | |
| 20 | Pressure (Alesso Remix - Short Edit) | Nadia Ali & Starkillers | | - | - | |
| 21 | Turn Up The Toulouse (BeatBreaker Bootleg) | Chris Brown & Nicky Romero | | - | - | |
| 22 | Y.M.C.A. (DJ LITTLE FEVER LIVE REMIX | Village People | | - | - | |
| 23 | Hello Replica Floor Shake Wiz (Hardwell Mash-Up) | Martin Solveig & Dragonette | | - | - | |
| 24 | Give Me The Night ((Searfin Redrum Edit)) | George Benson | | - | - | |
| 25 | Upside Down (Lu-Cut BMore Remix) | Diana Ross | | - | - | |
| 26 | Roxanne (DJ Cobra Edit) | The Police | | - | - | |
| 27 | Luke, I am Your Father! (Legobeat Imperial Bmore Mix) | Star Wars | | - | - | |
| 28 | Moves Like Jagger (Morsy Remix) | Maroon 5 | | - | - | |
| 29 | Dance Again | Jennifer Lopez & Pitbull | | - | - | |
| 30 | Mr. Saxobeat (Short Edit) | Alexandra Stan | | - | - | |
| 31 | GOTTA FEELING EVERY BREATH YOU TAKE ((SERAFIN™ REFIX)) | Black Eyed Peas Vs Police | | - | - | |
| 32 | Suspicious Miracles [LeeDM101] | Fragma vs. Elvis Presley | | - | - | |
| 33 | Domino Flash back (Jay Dabhi Bootleg) | Jessie J | | - | - | |
| 34 | I Gotta More Than A Feeling (House) | Boston Vs Black eyed Peas | | - | - | |
| 35 | Animal Right vs Around the World (Joe Maz Edit) | Wolfgang Gartner,Deadmau5, & Daft Punk | | - | - | |
| 36 | Day & What | T.I. vs Kid Cudi & Crookers | | - | - | |
| 37 | Where Samir Wanders | Samir Vs Mettalica | | - | - | |
| 38 | Enter Telephone (DJs From Mars Club Remix) | Lady Gaga f. Beyonce vs Metallica | | - | - | |
| 39 | SUMMER OF 69 (JESTERDAMUS RMX) | BRYAN ADAMS | | - | - | |
| 40 | SCHOOL'S OUT FOR SUMMER (DJ DEVILLE REMIX) | Alice Cooper | | - | - | |
| 41 | Rock n roll star (DJ LITTLE FEVER LIVE REMIX) | Oasis | | - | - | |