Runner's High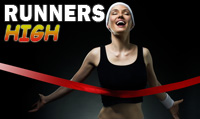 | | |
| --- | --- |
| Mix Name: | Runner's High |
| Mix DJ: | DJ JLouis |
| Mix Genres: | House, Pop |
| Explict Lyrics: | No |
| Mix Length: | 60 minutes |
| Mix BPM: | 130 |
| Mix Rating: | ( 28 Votes ) |
| Share this awesome mix: | |
Mix Description
There is a reason why "fun" rhymes with "run." Why?  Endorphins. These are magical little creatures that carry buckets of happiness to our brain cells when we exercise. Researchers claim that these tiny hormonal unicorns create something called a "runner's high," since they are stronger in runners than in let's say - jazzercisers. So next time you're looking for an endorphin fix, tie on some kicks and plug in this mix for a fun run and an all-natural high.
Runner's High is an hour long, high energy pop and dance mix, showered with cleverly placed lyrics to rouse your run. Getting tired at only 15 minutes in? No way! Bassment Jaxx's "Where's Your Head At" blends into Flo-Rida's "Right Round" to keep your head in check and your lazy thoughts at bay.  The energy stays strong all the way through the end thanks to lyrics like "The sound is my remedy - breathe in the energy" from Rihanna's, "Whose That Chick." Will I Am contributes with "I ain't gonna stop until I'm done. I ain't gonna quit until I won" from "Don't Stop the Party" at 24 minutes.
This mix is not only powerful, but also plain fun. You've waited 37 minutes for it – it's overnight sensation Carly Rae Jepsen's "Call Me Maybe" with a hint of techno and dubstep to make you feel slightly older than 16. At 40 minutes, you know you can handle another 20 thanks to Calvin Harris and Neyo's "Let's Go." After all, "It's all about where you're going, no matter where you've been." Madonna and the King of Pop both add their staying power to this youthful mix before Flo-Rida's appropriately titled, "Run" signals that time is up. All you have to do now is slow down and ride your runner's high.
read less
There is a reason why "fun" rhymes with "run." Why?  Endorphins. These are magical little creatures that carry buckets of happiness to our brain cells when we exercise. Researchers claim that these tiny hormonal unicorns create something called a "runner's high," since they are stronger in runners than in let's say - jazzercisers. So next time you're looking for an endorphin fix, tie on some kicks and plug in this mix for a fun run and an all-natural high.

read more
| | | | | | | |
| --- | --- | --- | --- | --- | --- | --- |
| # | Track Title | Artist | Preview | BPM | MI | Buy track |
| 1 | Moves Like Jagger (JD Live Redrum) | Maroon 5 | | - | - | |
| 2 | Hit The Lights (JumpSmokers Remix) | Jay Sean ft. Lil Wayne | | - | - | |
| 3 | Pass at Me (Pete Down Sobe Remix) | Timbaland ft. Pitbull | | - | - | |
| 4 | Move Ya Body (Angle Edit) | Nina Sky ft. Jabber | | - | - | |
| 5 | Conga Shake (Steve1nder Edit) | Nina Sky & Gloria Estefan | | - | - | |
| 6 | Culo (Diggz Transition) | Pitbull ft. Lil Jon | | - | - | |
| 7 | Waiting for Tonight (Djs from Mars Remix) | Jennifer Lopez | | - | - | |
| 8 | American Boy (DJ Scene Electro Edit) | Estele ft. Kanye West | | - | - | |
| 9 | Gettin Over Remix | David Guetta ft. Fergie and LMFAO | | - | - | |
| 10 | Hotel Room Service | Pitbull | | - | - | |
| 11 | We R Who We R (Miami Ski Team Remix) | Kesha | | - | - | |
| 12 | I Like It (Eric Love Edit) | Enrique Iglesias ft. Pitbull and T.I. | | - | - | |
| 13 | Wheres Your Right Round Head (Serafin Edit) | Bassment Jaxx ft. Flo Rida | | - | - | |
| 14 | The Anthem (DJ Felon Party Break) | Pitbull | | - | - | |
| 15 | People Don't Dance No More | DJ Scissor Hands | | - | - | |
| 16 | Krazy (DJ Slick Edit) | Pitbull ft. Lil Jon | | - | - | |
| 17 | Whose That Chick (JD Live Edit) | Rihanna | | - | - | |
| 18 | Workin Day N Nite (Morsy Edit) | Michael Jackson | | - | - | |
| 19 | Every Freakin Day N Nite (Anthem Kingz Remix) | Kid Cudi ft. Crookers and Jodeci | | - | - | |
| 20 | Ride (LA Riots Club Mix) | Ciara ft. Ludacrisz | | - | - | |
| 21 | Don't Stop The Party (JD Live Rework) | Will. I. Am. | | - | - | |
| 22 | Club Can't Handle Me (YJQ & JD Live Club Mix) | Flo Rida | | - | - | |
| 23 | Don't Wanna Go Home (Deville Electro Hard Hitter Rework) | Jason Derulo | | - | - | |
| 24 | Dynamite (Deville Remix) | Taio Cruz | | - | - | |
| 25 | Work It Out (Angle Edit) | Pitbull ft. Lil Jon | | - | - | |
| 26 | Grey Goose (Pete Down Edit) | Free School ft. Kelis and Apl de Ap | | - | - | |
| 27 | Young'n Holla Back (Alex Rage Uptempo Edit) | Fabolous | | - | - | |
| 28 | Took The Night | Chelley | | - | - | |
| 29 | Sugar (Eiffel 65 Edit) | Dream Team Djs vs. Flo Rida and Wynter Gordon | | - | - | |
| 30 | Call Me Maybe (Varsity Team Bootleg) | Carly Rae Joesph | | - | - | |
| 31 | California Girls (Hyper Crush Remix) | Katy Perry ft. Hyper Crush | | - | - | |
| 32 | Let's Go! (Deville Bmore Hype Edit) | Calvin Harris ft. Neyo | | - | - | |
| 33 | Back In Time | Pitbull | | - | - | |
| 34 | Starships | Nicki Minaj | | - | - | |
| 35 | All The Way Turnt Up (Rock It! Scientists Transition) | Travis Porter ft. Roscoe Dash, YT & Fatman Scoop | | - | - | |
| 36 | Turn Up The Music (Kaos Frankenstein Edit) | Chris Brown ft. Rihanna, Artistic Raw & DJ Pauly D | | - | - | |
| 37 | It's Not You It's Me (Angle Edit) | T-Pain vs. Chuckie | | - | - | |
| 38 | You Da One (Digital Dave Mash) | Rihanna | | - | - | |
| 39 | I Like The Remix (Club Killers Edit) | Pitbull ft. Enrique Iglesias & Afrojack | | - | - | |
| 40 | Where Dem Girls At | Flo Rida ft. Nicki Minaj | | - | - | |
| 41 | Where Dem Girls At (Afrojack Remix) | Flo Rida | | - | - | |
| 42 | Where Dem Girls Bounce (JD Live Bootleg) | Flo Rida ft. Gregory Klossman | | - | - | |
| 43 | Give Me All Your Love (JD Live Bootleg) | Flo Rida ft. Gregory Klossman | | - | - | |
| 44 | Run (Angle Edit) | Flo Rida ft. RedFoo | | - | - | |