BMore Amazing!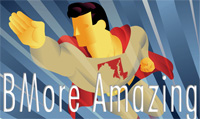 | | |
| --- | --- |
| Mix Name: | BMore Amazing! |
| Mix DJ: | DJ Little Fever |
| Mix Genres: | House, Hip-hop, 90s, Bmore |
| Explict Lyrics: | Yes |
| Mix Length: | 60 minutes |
| Mix BPM: | 131 |
| Mix Rating: | ( 15 Votes ) |
| Share this awesome mix: | |
Mix Description
Are you a fan of BMore music? Are you wondering what the heck it is? Well, it's been around for almost 20 years, so it's time to get with the program! BMore music is a mix of chopped house music and hip hop, created in - you guessed it, genius - Baltimore, Maryland. What you have here is an hour long, high energy mash up of good stuff including rap, rock, and even country: all with a strong hip hop pulse in the background to keep it fresh and new.
Starting your tour of the "City of Firsts" is the ever recognizable "Poison" from Bell Biv Devoe with Carly Rae Jepsen keeping it new and young. Averaging 130 bpm, the rest of the mix is highly energetic, inspiring your run to BMore awesome than ever. Highlights are abundant but include "Hustle Hard," by Ace Hood, Nirvana's "Smells Like Teen Spirit" mashed up with Martin Solveig & Dragonette's "Hello," as well as an original Kanye West sampler.
How about a little country with your cool down? Don't make that face – it's good! You've never heard Keith Urban and Dwight Yoakam like this before. This mix doesn't fool around. Bmore means business. But "never to suffer would never to have been blessed," as Baltimore's Edgar Allen Poe so wisely stated. So push yourself a little harder with a lively trip to the East Coast that will have you coming back again and again.
read less
Are you a fan of BMore music? Are you wondering what the heck it is? Well, it's been around for almost 20 years, so it's time to get with the program! BMore music is a mix of chopped house music and hip hop, created in - you guessed it, genius - Baltimore, Maryland. What you have here is an hour long, high energy mash up of good stuff including rap, rock, and even country: all with a strong hip hop pulse in the background to keep it fresh and new.

read more
| | | | | | | |
| --- | --- | --- | --- | --- | --- | --- |
| # | Track Title | Artist | Preview | BPM | MI | Buy track |
| 1 | Call Me Maybe | Carly Rae Jepsen | | - | - | |
| 2 | Poison | Bel Biv Devoe | | - | - | |
| 3 | Without You | David Guetta ft. Usher | | - | - | |
| 4 | G6 Super Bass | Nicki Minaj ft. Dev | | - | - | |
| 5 | Cashing Out | Cash Out | | - | - | |
| 6 | BMore Club Can't Be Stopped | Benny Stixx ft. TT The Artist | | - | - | |
| 7 | Emergency | Steve Aoki | | - | - | |
| 8 | Cake | Rihanna | | - | - | |
| 9 | Cold As Ice | Murder Mark | | - | - | |
| 10 | Headlines | Drake | | - | - | |
| 11 | Kick Out the Epic Mother Fucker | Dada Life | | - | - | |
| 12 | Last Friday Night | Katy Perry | | - | - | |
| 13 | Sweet Child Oh Mine | Guns 'N Roses | | - | - | |
| 14 | Hell Smells Like Teen Spirit | Nirvana ft. Martin Solvieg & Dragonette | | - | - | |
| 15 | Mercy | Kanye West | | - | - | |
| 16 | Good Life | Kanye West | | - | - | |
| 17 | No Church in the Wild | JayZ ft Kanye West | | - | - | |
| 18 | Turn Up The Music | Chris Brown | | - | - | |
| 19 | Let's Go | Calvin Harris ft Neyo | | - | - | |
| 20 | Express Yourself | Diplo | | - | - | |
| 21 | Take Care | Drake ft Rihanna | | - | - | |
| 22 | Jockin JayZ | JayZ | | - | - | |
| 23 | Crew Love | The Weekend ft Drake | | - | - | |
| 24 | Giggity | DJ Bruce Wayne | | - | - | |
| 25 | Mr Saxobeat | Alexandra Stan | | - | - | |
| 26 | How Low | Ludacris | | - | - | |
| 27 | I Like That | LMFAO ft Richard | | - | - | |
| 28 | Hustle Hard | Ace Hood | | - | - | |
| 29 | Adam's Song | Blink 182 | | - | - | |
| 30 | Jump You Sexy Bitch | Akon ft Van Halen | | - | - | |
| 31 | Wayward Son | Mike Toast | | - | - | |
| 32 | Your Love is on Fire | Outfield ft Kings of Leon | | - | - | |
| 33 | Last Resort | Papa Roach | | - | - | |
| 34 | Janie's Got a Gun | Aerosmith | | - | - | |
| 35 | Bohemian Rhapsody | Queen | | - | - | |
| 36 | People are People | Depeche Mode | | - | - | |
| 37 | Boom Boom Pow | Black Eyed Peas | | - | - | |
| 38 | Marvin Gaye and Chardonnay | Big Sean ft Kanye West | | - | - | |
| 39 | Positive | Taio Cruz | | - | - | |
| 40 | Fast As You Can | Dwight Yoakam | | - | - | |
| 41 | Who Wouldn't Want to Be Me | Keith Urban | | - | - | |
| 42 | Lost in The World | Kanye West | | - | - | |
| 43 | Tik Tok | Ke$ha | | - | - | |
| 44 | You Got it Bad | Usher | | - | - | |