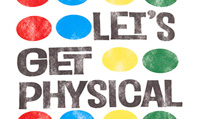 | | |
| --- | --- |
| Mix Name: | Let's Get Physical |
| Mix DJ: | DJ Remise |
| Mix Genres: | 80s |
| Explict Lyrics: | No |
| Mix Length: | 69 minutes |
| Mix BPM: | Builds |
| Mix Rating: | ( 39 Votes ) |
| Share this awesome mix: | |
Mix Description
Sometimes you need to rewind in order to unwind. So, like, let's totally go for a run!  Over an hour of totally awesome '80s and retro '90s music starts with Cyndi Lauper back in 1983 when Valley Girl was released in theaters and Chicken McNuggets started making Happy Meals happier. "Girls Just Wanna Have Fun" sets the tone for remaining hour: bubbly and obnoxiously fun. If the thought of Captain Lou Albano's rubber-band littered beard is polluting your thoughts, fear not: it will be short lived. This mix is a visual trip through MTV's best years: when they only played music videos.
Following Cyndi are a few retro dance hits including Haddaway's "What Is Love," channeling A Night at the Roxbury. What follows is a backward run through the '80s with hits by The Romantics, B-52's, Dire Straits, The Go-Go's, and more. Visions of neon spandex and sweaty fat men appear at the 22 minute mark, whether you like it or not, as you "get physical" with Olivia Newton-John. If you haven't seen the video, consider yourself lucky.
Switching from sweaty men to female Amazon clones, Robert Palmer's "Simply Irresistible" signals you are entering the homestretch. Devo's red "energy domes" (upside down flower pots) give you an energy boost at 58 minutes with "Whip It." Your retro rewind is capped off with Dire Straits' "Walk of Life." This entire mix provides a classic energy that only retro music from MTV's greatest decade can provide. Have some fun! You deserve it.
read less
Sometimes you need to rewind in order to unwind. So, like, let's totally go for a run!  Over an hour of totally awesome '80s and retro '90s music starts with Cyndi Lauper back in 1983 when Valley Girl was released in theaters and Chicken McNuggets started making Happy Meals happier. "Girls Just Wanna Have Fun" sets the tone for remaining hour: bubbly and obnoxiously fun. If the thought of Captain Lou Albano's rubber-band littered beard is polluting your thoughts, fear not: it will be short lived. This mix is a visual trip through MTV's best years: when they only played music videos.

read more
| | | | | | | |
| --- | --- | --- | --- | --- | --- | --- |
| # | Track Title | Artist | Preview | BPM | MI | Buy track |
| 1 | Girls Just Want to Have Fun | Cyndi Lauper | | - | - | |
| 2 | 100% Pure Love | Crystal Waters | | - | - | |
| 3 | Show Me Love | Robin S | | - | - | |
| 4 | What is Love | Haddaway | | - | - | |
| 5 | Sweet Dreams | Eurythmics | | - | - | |
| 6 | You Spin Me Round | Dead or Alive | | - | - | |
| 7 | Talking in our Sleep | The Romantics | | - | - | |
| 8 | Sex Shooter | Apollonia 6 | | - | - | |
| 9 | Physical | Olivia Newton-John | | - | - | |
| 10 | Venus | Bananarama | | - | - | |
| 11 | Locomotion | Kylie Minogue | | - | - | |
| 12 | Everybody Have Fun Tonight | Wang Chung | | - | - | |
| 13 | Blue Monday | New Order | | - | - | |
| 14 | Love Shack | B-52'S | | - | - | |
| 15 | Our Lips are Sealed | GO-GO'S | | - | - | |
| 16 | Born to be Alive | Patrick Hernandez | | - | - | |
| 17 | Money For Nothing | Dire Straits | | - | - | |
| 18 | One Thing Lead | The Fixx | | - | - | |
| 19 | Simply Irresistable | Robert Palmer | | - | - | |
| 20 | Tainted Love | Soft Cell | | - | - | |
| 21 | I Ran | A Flock Of Seagulls | | - | - | |
| 22 | We Got the Beat | GO-GO'S | | - | - | |
| 23 | Whip It | Devo | | - | - | |
| 24 | Shake It Up | The Cars | | - | - | |
| 25 | Maniac | Michael Sembello | | - | - | |
| 26 | Take On Me | A-Ha | | - | - | |
| 27 | Walk Of Life | Dire Straits | | - | - | |