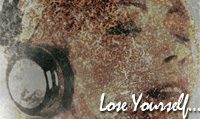 | | |
| --- | --- |
| Mix Name: | Lose Yourself |
| Mix DJ: | Lloyd |
| Mix Genres: | Rock, Pop, Hip-hop |
| Explict Lyrics: | Yes |
| Mix Length: | 90 minutes |
| Mix BPM: | 180 |
| Mix Rating: | ( 37 Votes ) |
| Share this awesome mix: | |
Mix Description
If you have the initiative to set out for a 90 minute run, chances are your power comes from within. But music can really help along the way. For a lengthy run, you need a bit of diversity in your playlist. Do you like a little bit of pop, rock, maybe some rap, and a touch of passion while keeping you entertained the whole way? Lose yourself in 90 minutes of variety that will carry you toward your goal like the wind at your back.
It all starts with pure rock music including We the Kings chanting, "Run baby run," before getting a little funky with Janelle Monae's "Tightrope." Some more pop and rap carry you to the 30 minute mark when the mood turns a bit sentimental with Jordin Sparks and Nelly. Feeling all sappy and gooey inside? Snap out of it! Hoobastank picks up the pace, leaving you "Unaffected" by the romantic intermission. Eminem makes an appearance several times in this mix, inspiring you to "Lose Yourself" both in the rhythm of your run and also in the lyrics.
If a run that lasts an hour and a half sounds daunting to you, ignore the length and go with the flow. The variation from rock to pop to rap provides a form of renewable energy as each transition breaks up your run in to smaller chunks instead of one long monotonous one. And these aren't all songs that you're force-fed daily on the radio.  For example, the last ten minutes takes you from Nicki Minaj's "Gun Shot" to Coldplay's "Strawberry Swing." If you enjoy different styles of music, there is no reason you can't have it all in one solid playlist.
read less
If you have the initiative to set out for a 90 minute run, chances are your power comes from within. But music can really help along the way. For a lengthy run, you need a bit of diversity in your playlist. Do you like a little bit of pop, rock, maybe some rap, and a touch of passion while keeping you entertained the whole way? Lose yourself in 90 minutes of variety that will carry you toward your goal like the wind at your back.

read more
| | | | | | | |
| --- | --- | --- | --- | --- | --- | --- |
| # | Track Title | Artist | Preview | BPM | MI | Buy track |
| 1 | How Far We've Come | Matchbox Twenty | | - | - | |
| 2 | Check Yes Juliet | We The Kings | | - | - | |
| 3 | Time Bomb | Faber Drive | | - | - | |
| 4 | Adelaide | Anberlin | | - | - | |
| 5 | Tightrope | Janelle Monae | | - | - | |
| 6 | The Champ | Nelly | | - | - | |
| 7 | Countdown | Beyonce | | - | - | |
| 8 | I Can Transform Ya | Chris Brown | | - | - | |
| 9 | Mrs. Officer | Lil Wayne | | - | - | |
| 10 | Never Never | Brick and Lace | | - | - | |
| 11 | Paper, Scissors, Rock | Chris Brown | | - | - | |
| 12 | Coming Home | Diddy Dirty Money | | - | - | |
| 13 | Mr. Feelgood | J-Son | | - | - | |
| 14 | 6 Foot 7 Foot | Lil Wayne | | - | - | |
| 15 | Talk That Talk | Rihanna | | - | - | |
| 16 | Roman Reloaded | Nicki Minaj | | - | - | |
| 17 | Yeah Yeah You Would | Diddy Dirty Money | | - | - | |
| 18 | Tattoo | Jordin Sparks | | - | - | |
| 19 | Over and Over | Nelly feat Tim McGraw | | - | - | |
| 20 | Unaffected | Hoobastank | | - | - | |
| 21 | National Anthem | Lana Del Rey | | - | - | |
| 22 | Teach Me How To Dougie | Cali Swag District | | - | - | |
| 23 | Mocking Bird | Eminem | | - | - | |
| 24 | Princess of China | ColdPlay feat Rihanna | | - | - | |
| 25 | Lay Me Down | Dirty Heads | | - | - | |
| 26 | Good Life | Kanye West | | - | - | |
| 27 | Overtime | Ace Hood feat T-Pain and Akon | | - | - | |
| 28 | Waiting For The End | Linkin Park | | - | - | |
| 29 | Ring The Alarm | Beyonce | | - | - | |
| 30 | Fireball | Willow Smith | | - | - | |
| 31 | Massive Attack | Nicki Minaj | | - | - | |
| 32 | I'm Into You | Jennifer Lopez | | - | - | |
| 33 | Born To Die | Lana Del Rey | | - | - | |
| 34 | Unthinkable (I'm Ready) | Alicia Keys | | - | - | |
| 35 | Lose Yourself | Eminem | | - | - | |
| 36 | I Love College | Asher Roth | | - | - | |
| 37 | Marilyn Monroe | Nicki Minaj | | - | - | |
| 38 | Empire State of Mind | Jay-Z | | - | - | |
| 39 | Not Afraid | Eminem | | - | - | |
| 40 | Billionaire | Travie McCoy | | - | - | |
| 41 | Summer Paradise | Simple Plan feat Sean Paul | | - | - | |
| 42 | Gun Shot | Nicki Minaj | | - | - | |
| 43 | Speed Limit | Kerli | | - | - | |
| 44 | Two Piece | J-Co | | - | - | |
| 45 | With Ur Love | Cher Lloyd | | - | - | |
| 46 | Strawberry Swing | Coldplay | | - | - | |