Afterburner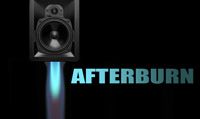 | | |
| --- | --- |
| Mix Name: | Afterburner |
| Mix DJ: | DJ Neon Nomad |
| Mix Genres: | House, Pop, Hip-hop |
| Explict Lyrics: | Yes |
| Mix Length: | 45 minutes |
| Mix BPM: | 133 |
| Mix Rating: | ( 77 Votes ) |
| Share this awesome mix: | |
Mix Description
Lace up those shoes tight and make sure you're fully stretched before hitting the pavement because this 45-minute infusion of Hip Hop, House Music, and Pop will have you pushing yourself beyond your bounds. Warming you up very appropriately with David Guetta's ballad "Titanium" featuring Sia, DJ Neon Nomad's taken the art of integrating peaks and valleys into relatively short runs and has spun out a heart-pounding mix with Afterburner.
Perfect for churning up some early morning power or as the centerpiece of your high-intensity interval training program, Afterburner will have you alternating pace between steady jogs set to the likes of Lopez's "Charge Me Up" and brilliant bursts of speed brought to you in-part by Knife Party, Proxy, and a particularly energizing Electro Hype Remix of Guns N Roses' "Welcome to the Jungle".
This short-fused mix of 27-tracks will build a fire in your veins with each beat and promises to keep you going steady all the way to the end with a disco house sendoff complimentary of Duck Sauce.
read less
Lace up those shoes tight and make sure you're fully stretched before hitting the pavement because this 45-minute infusion of Hip Hop, House Music, and Pop will have you pushing yourself beyond your bounds. Warming you up very appropriately with David Guetta's ballad "Titanium" featuring Sia, DJ Neon Nomad's taken the art of integrating peaks and valleys into relatively short runs and has spun out a heart-pounding mix with Afterburner.

read more
| | | | | | | |
| --- | --- | --- | --- | --- | --- | --- |
| # | Track Title | Artist | Preview | BPM | MI | Buy track |
| 1 | Titanium | David Guetta ft Sia | | - | - | |
| 2 | Glad You Came | The Wanted | | - | - | |
| 3 | I Like How It Feels | Enrique ft Jump Smokers | | - | - | |
| 4 | Charge Me Up | Jennifer Lopez | | - | - | |
| 5 | All My People | Sasha Lopez | | - | - | |
| 6 | Changes | Klaas | | - | - | |
| 7 | Somebody That I use to Know (Tiesto Remix) | Gotye | | - | - | |
| 8 | Boomerang | Akon ft Pitbull | | - | - | |
| 9 | Peanut Butta | Thunderbird Juicebox | | - | - | |
| 10 | Milkshake 2.0 (A.Luck Remix) | Kelis | | - | - | |
| 11 | Sex Sax (Proper Villians Remix) | Drop The Lime | | - | - | |
| 12 | Freak (Disco Fries Remix) | Estelle ft Kardinal Offishall | | - | - | |
| 13 | Where's Your Head At (Klaas Remix) | Basement Jaxx | | - | - | |
| 14 | Clear | Kardinal Offishall | | - | - | |
| 15 | Internet Friends | Knife Party | | - | - | |
| 16 | Big Fat Bass (Funk D Bootleg) | Britney Spears | | - | - | |
| 17 | Moves Like Jagger | Maroon 5 | | - | - | |
| 18 | Raven (Crookers Remix) | Proxy | | - | - | |
| 19 | Loca People | Sak Noel | | - | - | |
| 20 | Mr. Saxobeat (Body Bangers Remix) | Alexandra Stan | | - | - | |
| 21 | Starships | Nicki Minaj | | - | - | |
| 22 | Run To You | Flo Rida ft. LMFAO & T-Pain | | - | - | |
| 23 | Last Friday Night (Liam Keegan Remix) | Katy Perry | | - | - | |
| 24 | Welcome To The Jungle (Electro Hype Remix) | Guns N' Roses | | - | - | |
| 25 | Flex Gym Duck (Marc Johnce Mash) | Duck Sauce vs. Dizzee Rascal | | - | - | |
| 26 | Babra Streisand Freestlye (The Girls Can Hear Us) | Duck Sauce | | - | - | |
| 27 | Beat Sauce (Party Ben Mash) | Duck Sauce vs Michael Jackson | | - | - | |