Green Light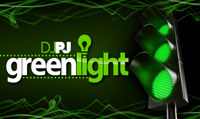 | | |
| --- | --- |
| Mix Name: | Green Light |
| Mix DJ: | DJ PJ |
| Mix Genres: | House, Rock, Pop, 80s, 90s |
| Explict Lyrics: | No |
| Mix Length: | 123 minutes |
| Mix BPM: | 137 to 144 |
| Mix Rating: | ( 111 Votes ) |
| Share this awesome mix: | |
Mix Description
Do you ever notice that on some days, for whatever reason, you're full of energy? Like you're stopped an intersection, pumped with gas and ready to go but the light is red?  You wish you could harness that energy for future use. Fear not – we've already done it for you. Your green light comes in the form of two hours of House, Rock, Pop, and Bmore running music, giving you the signal to go full speed ahead.
This is a high octane mix, averaging 144 beats per minute. A snippet of John Legend's "Green Light" tells you to hit the gas before Pitbull, Venga Boys, and Britney Spears take you around the first lap. This one is great for short attention spans since the tracks are brief, allowing for extra variety. That variety includes Amy Winehouse, the Wanted, Coldplay, Three 6 Mafia, and much more. A hyperactive "We Will Rock You" comes just before the halfway point, assuring you that there is no need to take a pit stop. Just keep on going into the paths of Gotye, Gorillaz, and Kid Cudi to name only a few.
The Global Deejays' remix of "What a Feeling" signals that your runner's high is on its way with less than 30 minutes to go. They make an appearance again at the end of the mix with "Born to be Alive" at the same high level of energy as 2 hours ago. And it certainly is "good to be alive" when you have a full tank of gas to rock your run.
read less
Do you ever notice that on some days, for whatever reason, you're full of energy? Like you're stopped an intersection, pumped with gas and ready to go but the light is red?  You wish you could harness that energy for future use. Fear not – we've already done it for you. Your green light comes in the form of two hours of House, Rock, Pop, and Bmore running music, giving you the signal to go full speed ahead.

read more
| | | | |
| --- | --- | --- | --- |
| # | Track Title | Artist | Buy track |
| 1 | Green Light Intro | DJPJ | |
| 2 | Dont Stop the Party | Pitbull | |
| 3 | We Like to Party | Venga Boys | |
| 4 | Toxic | Britney Spears | |
| 5 | Rehab | Amy Whinehouse | |
| 6 | Boom Boom Pow | Black Eyed Peas | |
| 7 | Glad You Came | The Wanted | |
| 8 | Easy Lover | Phil Collins | |
| 9 | C'mon Ride It | Quad City DJs | |
| 10 | San Fransisco | Global DeeJays | |
| 11 | Paradise | Coldplay | |
| 12 | Sweet Dreams | Benny Benassi | |
| 13 | Take Over Control | Afrojack | |
| 14 | RIght Round | MC Mario | |
| 15 | Hung Up | Madonna | |
| 16 | Knaas Americano | Steve Angello | |
| 17 | 3 | Britney Spears | |
| 18 | Los Angeles | Tino Cochino | |
| 19 | The Time | Black Eyed Peas | |
| 20 | In The Air Tonight | Phil Collins | |
| 21 | Starstruck | 3oh3 | |
| 22 | We Will Rock You | Queen | |
| 23 | Memories | Kid Cudi | |
| 24 | Shake It | Metro Station | |
| 25 | Somebody I Used to Know | Gotye | |
| 26 | Sorry for Party Rockin | LMFAO | |
| 27 | Tainted Love | Soft Cell | |
| 28 | Pretty Fly for a White Guy | Offspring | |
| 29 | Wrong Way | Sublime | |
| 30 | Animal | Neon Trees | |
| 31 | Sesames Treat | Smart E | |
| 32 | Feel So Good | Sonique | |
| 33 | Feel It | Three 6 Mafia | |
| 34 | Feel Good Inc | Gorillaz | |
| 35 | Womanizer | Britney Spears | |
| 36 | Blood is Pumping | Voo Doo & Serrano | |
| 37 | N***as In Paris | Jay-Z & Kanye West | |
| 38 | What a Feeling | Global Deejays | |
| 39 | Jerk It Out | The Caesars | |
| 40 | Heartbeat | Childish Gambino | |
| 41 | Day & Nite | Kid Cudi | |
| 42 | Die Young | Kesha | |
| 43 | OMG | Usher | |
| 44 | The Launch | DJ Jean | |
| 45 | Party Like Us | DJ Kool | |
| 46 | Bust a Move | Young MC | |
| 47 | Shake It | MC Shy D | |
| 48 | Born to be Alive | Global Deejays | |