Ready, Set... Fiesta!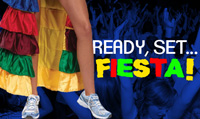 | | |
| --- | --- |
| Mix Name: | Ready, Set... Fiesta! |
| Mix DJ: | DJ David J |
| Mix Genres: | Hip-hop, Latin House |
| Explict Lyrics: | Yes |
| Mix Length: | 63 minutes |
| Mix BPM: | Varies |
| Mix Rating: | ( 65 Votes ) |
| Share this awesome mix: | |
Mix Description
No matter what the temperature is in your town, this mix from DJ David J will bring the heat to your feet with a nice, caliente beat.   If you want to add a little spice to your run, be ready to dash along with a strong latin mix and hold a quick, steady pace to keep the fire under your feet hot.
The amazing "Anthem Kings" help gets your motor started and set the pace for the first 20 minutes.  As you start to feel the Latin beats take over and the connection begin, the hard beats of Kat De Luna and Psy move you into a nice upbeat groove and keep the energy high.  The Latin love doesn't end there because the music gets mucho fuego with the sounds of Omega El Fuerte, DJ Beatbreaker and Ellie Goulding bringing you home with a fabulous remix of Lights.
Adding a little spice to your run will leave you wanting more.. and trust us, you will want more!
read less
No matter what the temperature is in your town, this mix from DJ David J will bring the heat to your feet with a nice, caliente beat.   If you want to add a little spice to your run, be ready to dash along with a strong latin mix and hold a quick, steady pace to keep the fire under your feet hot.

read more
| | | | |
| --- | --- | --- | --- |
| # | Track Title | Artist | Buy track |
| 1 | Permitame | Tony Dize ft. Yandel | |
| 2 | Shake Yo A$$ | Anthem Kingz | |
| 3 | Hey Baby (Merengue Remix) | Pitbull ft. T-Pain | |
| 4 | No Hands (David J's Merengue Remix) | Waka Flocka Flame ft. Roscoe Dash & Wale | |
| 5 | Don't Stop the Music (David J's Merengue Remix) | Rihanna | |
| 6 | Dale | Don Omar | |
| 7 | Agresivo (Remix) | Jowell Y Randy | |
| 8 | Perros Salvajes | Daddy Yankee ft. Musik Junkies | |
| 9 | Pay Attention to the Drums | Alvaro | |
| 10 | Que No Pare la Fiesta | Zafra | |
| 11 | Dance Bailalo (Manik Remix) | Kat De Luna | |
| 12 | Latin Slide Dutch | DJ Lil Jay ft. Mr. C | |
| 13 | Veo Veo (Remix) | Henry Mendez | |
| 14 | La Rumba | Pirates of The Carribean | |
| 15 | Me Enamore (Club Remix) | Angel & Khriz | |
| 16 | Gangman Style (Merengue Electronico Remix) | Psy | |
| 17 | Tumba el Coolie Sound | El General | |
| 18 | Ai Se Eu Te Pego (Starjack Blend) | Michel Telo | |
| 19 | El Cafe | Tito Swing ft. Don Omar | |
| 20 | Cafe Con Leche | El Presidente | |
| 21 | Ayantame | Ilegales ft. El Potro Alvarez | |
| 22 | Te Perdiste Mi Amor (Jump Smokers Remix) | Thalia ft. Prince Royce | |
| 23 | Zumba | Don Omar | |
| 24 | Si Eres Latina | Muzik Junkies | |
| 25 | Brincando | Muzik Junkies | |
| 26 | Suban Las Manos | DJ Lil Jay | |
| 27 | Latin Tung | Muzik Junkies | |
| 28 | A Mover La Colita | Artie The 1 Man Party | |
| 29 | Latin Colita Twist (David J's Party Break) | El General Vs. Artie the 1 Man Party | |
| 30 | Fuego (Musik Junkies Break) | Musik Junkies | |
| 31 | Latin Fuego (David J's Party Break) | El General vs. Musik Junkies | |
| 32 | Mr. Saxo Beat (Merengue Remix) | Omega El Fuerte | |
| 33 | Mr. Mariachi Beat (David J Mash) | Alexandra Stan vs. DJ Star | |
| 34 | El Mariachi (JD Hype Mix) | DJ Star | |
| 35 | Cabalgando Troll (BreatBreaker Bootleg) | DJ Beatbreaker | |
| 36 | Danza Kuduro (BeatBreaker Edit) | Don Omar ft. Lucenzo | |
| 37 | Lights (Merengue Remix) | Ellie Goulding | |