2 Hour 1/2 Marathon (Steady)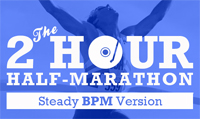 | | |
| --- | --- |
| Mix Name: | 2 Hour 1/2 Marathon (Steady) |
| Mix DJ: | Mike Czech |
| Mix Genres: | House, Rock, Pop, Hip-hop |
| Explict Lyrics: | Yes |
| Mix Length: | 120 minutes |
| Mix BPM: | 140 |
| Mix Rating: | ( 143 Votes ) |
| Share this awesome mix: | |
Mix Description
** Heads up: This mix is very explicit! If rocking to unfiltered mixes isn't your thing, this mix isn't for you ***
Running a half-marathon in a two hour window is THE most popular shared goal amongst runners and for those who need some tunes in your ears to carry you through to the finish line, DJ Mike Czech has two hours of running music to cheer you on the entire way.  While everyone's stride is different, at 140 beats per minute, for most people, if you run to the beat of this mix, you will complete this highly sought after goal.
Starting with Rihanna, you'll wind through your course with a healthy dose of House and Hip Hop from the likes of Rick Ross, 3 Six Mafia, Twista, Jay-Z, Avicii, Skrillex, Kanye West, and so much more. A bit of "Rock turned House" will pop in to say hello on occasion, just to provide a bit of variety. (The Doors, The Verve.) Besides that, there are no surprises: just a little extra motivational intensity at the typical burn out points – especially almost halfway through with DJ Getdown's "Futuristic Superheros."
They say that getting there is half the fun.  With this mix just press play, keep your strides in sync with the music, and you'll have your two-hour half marathon in the bag.
read less
** Heads up: This mix is very explicit! If rocking to unfiltered mixes isn't your thing, this mix isn't for you ***

read more
| | | | |
| --- | --- | --- | --- |
| # | Track Title | Artist | Buy track |
| 1 | Pour It Up | Rihanna | |
| 2 | No Lie ft. Drake | 2 Chainz | |
| 3 | No Hands | Waka Flocka Flame ft. Wale and Roscoe Dash | |
| 4 | Cashin Out | Cash Out | |
| 5 | All The Way Turnt Up (Remix) | Twista ft. Soulja Boy, Arab & Travis Porter | |
| 6 | Bugatti | Ace Hood ft. Future & Rick Ross | |
| 7 | Bandz A Make Her Dance | Juicy J ft. Lil Wayne and 2 Chainz | |
| 8 | Poppin Off | Watch the Duck | |
| 9 | Stay Fly | Three 6 Mafia | |
| 10 | Young and Getting It | Meek Mill ft. Kirko Bangz | |
| 11 | Big Pimpin' | Jay-Z | |
| 12 | Hustlin' | Rick Ross | |
| 13 | Pop That | French Montana feat Rick Ross, Drake and Lil Wayne | |
| 14 | Wild For The Night | ASAP Rocky | |
| 15 | Levels (Skrillex Remix) | Avicii | |
| 16 | Radioactive (BbulL Remix) | Imagine Dragons | |
| 17 | Jah No Partial | Major Lazer | |
| 18 | We Still Goin In This Bitch | B.O.B. vs. Skrillex | |
| 19 | I'm On One (KillaGraham Remix) | DJ Khaled ft Drake, Lil Wayne | |
| 20 | Hood Fantasy | Flosstradamus | |
| 21 | Bitter Dub Symphony | Breaking News ft. The Verve | |
| 22 | Paradise (System Remix) | Coldplay | |
| 23 | Futuristic Super Heroes ft. Eri On | DJ Getdown | |
| 24 | Female$ Welcomed | Trinidad James | |
| 25 | Cudi The Kid (Designer Drugs Remix) | Steve Aoki ft. Kid Cudi | |
| 26 | Earthquake (Noisia Remix) | Labrinth ft. Tinie Tempah | |
| 27 | Birthday Song | 2 Chainz ft. Kanye West | |
| 28 | Mercy | Kanye West ft Big Sean Pusha T and 2 Chainz | |
| 29 | Wild Boy | Machine Gun Kelly ft. Waka Flocka Flame | |
| 30 | Centipede | Knife Party | |
| 31 | Messiah | Monsta | |
| 32 | Work Hard Play Hard | Wiz Khalifa | |
| 33 | Ode to OI (Mighty Mi & Slugworth Trap Mix) | TJR | |
| 34 | Make It Bun Dem (Bro Safari & UFO! Remix) | Skrillex ft. Damian Marley | |
| 35 | How Low (Caspa Remix) | Ludacris | |
| 36 | Snapbacks & Tattoos | Driicky Graham | |
| 37 | Suit & Tie (Dillion Francis Remix) | Justin Timberlake | |
| 38 | Breakn' A Sweat | Skrillex ft. The Doors | |
| 39 | Ho Hey (HugLife Remix) | The Lumineers | |
| 40 | HYFR | Drake ft. Lil Wayne | |
| 41 | Molly | Tyga ft. Wiz Khalifa & Mally Mall | |
| 42 | Clarity ft. Foxes (Brillz Remix) | Zedd | |
| 43 | Cinema (Skrillex Remix) | Benny Benassi ft. Gary Go | |
| 44 | Power (Mighty Mi & Slugworth Trap Mix) | Kanye West | |
| 45 | Gold Dust (Flux Pavillion Remix) | DJ Fresh | |
| 46 | The Show Goes On | Lupe Fiasco | |
| 47 | Swimming Pools (Mighty Mi & Slugworth Trap Mix) | Kendrick Lamar | |
| 48 | Guap | Big Sean | |
| 49 | Snap Ya Neck Back | DJ Muggs ft. Dizzee Rascal | |
| 50 | Magic Remix | Future ft T.I. | |
| 51 | Higher | Just Blaze & Baauer | |
| 52 | So Young So High (Dillon Francis Remix) | Dada Life | |
| 53 | Celebration | Game | |
| 54 | Funky Vodka (Mr. Scoot Trap Remix) | TJR | |