The Sun Run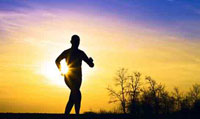 | | |
| --- | --- |
| Mix Name: | The Sun Run |
| Mix DJ: | DJ Eric Love |
| Mix Genres: | House, Pop, Hip-hop |
| Explict Lyrics: | Yes |
| Mix Length: | 30 minutes |
| Mix BPM: | 132 |
| Mix Rating: | ( 260 Votes ) |
| Share this awesome mix: | |
Mix Description
Not to be confused with Vancouver's legendary "Sun Run", this mix is perfect for a summer run, especially at sunset.  Not only is it full of high energy remixes of the summer '11 hits, there are a couple of well placed breakdowns as well.
These breakdowns, areas where the beat drops out for 15-20 seconds, helps to keep you mentally focused, give your ears a break from the constant beat, and often result in a build up that will have you pumping your fist in the air as you run.
Highlights from this mix include the remix of the song "Turn Around Pt. 2" from Florida and Pitbull.  The way Eric Love mixes this track in will have you charging ahead just as you start to get a little fatigued during your 30 minute run.  The remix of "Born this Way" is also pretty empowering.  Even if you're not a Gaga fan, just a few lines of this song will push you through your run.
Finally the remix of "Higher" from Taio Cruz is solid one.  You're challenged to try and not get goosebumps when he croons "It's taking me higher, higher, higher off the ground!".  Now that's great, motivating running music!
read less
Not to be confused with Vancouver's legendary "Sun Run", this mix is perfect for a summer run, especially at sunset.  Not only is it full of high energy remixes of the summer '11 hits, there are a couple of well placed breakdowns as well.

read more
| | | | |
| --- | --- | --- | --- |
| # | Track Title | Artist | Buy track |
| 1 | On the Floor | Jennifer Lopez ft. Pitbull | |
| 2 | Hey Baby | Pitbull ft. T-pain | |
| 3 | Hello | Martin Solveig ft. Dragonette | |
| 4 | Party Rock Anthem | LMFAO | |
| 5 | Turn Around Pt. 2 | FloRida ft. Pitbull | |
| 6 | Beautiful People (Lenny B Remix) | Chris Brown | |
| 7 | 2Gether | Roger Sanchez | |
| 8 | Born This Way | Lady Gaga | |
| 9 | We R Who We R | Ke$ha | |
| 10 | Firework (JD Live Edit) | Katy Perry | |
| 11 | Higher | Taio Cruz ft. Travie Mccoy | |
| 12 | More | Usher | |
| 13 | F**k You (Le Castle Vania Remix) | Cee-Lo Green | |
| 14 | Yes | LMFAO | |
| 15 | Save The World | SHM | |