Dirty Red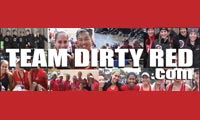 | | |
| --- | --- |
| Mix Name: | Dirty Red |
| Mix DJ: | DJ Riggz |
| Mix Genres: | House, Rock, Pop, Hip-hop, 80s |
| Explict Lyrics: | Yes |
| Mix Length: | 80 minutes |
| Mix BPM: | Varies |
| Mix Rating: | ( 24 Votes ) |
| Share this awesome mix: | |
Mix Description
For this mix Rock My Run has teamed up with Team Dirty Red to produce an incredible 80 minute running mix for the upcoming America's Finest City Half Marathon in San Diego.  All of the songs were hand picked my members of the team and mixed by DJ Riggz to create a unique, one of a kind mix with a distinctly old school feel.
With songs & remixes from artists as diverse as Prince, The Crystal Method, Lil Jon and even MC Hammer, the mix is certainly a musical ride made for listening to during a nice long run.  Most of the songs are bit more old school and are sure to bring back memories of 90's! We dare you to not flash the hands signals for "2 Legit 2 Quit" when that songs drops in!
Like all Rock My Run mixes, it starts off with a more mellow, warm-up style song and then progresses to build towards a couple of distinct peaks in the mix.  The mix finishes with a great high-energy song from Gnarls Barkley "Run" that not only has a great energy to it, but also great lyrics for running to.
If you are going on a longer run and are into a wide range of music including hearing some great songs you may not have heard before (or maybe just not in a while) this mix is for you!
read less
For this mix Rock My Run has teamed up with Team Dirty Red to produce an incredible 80 minute running mix for the upcoming America's Finest City Half Marathon in San Diego.  All of the songs were hand picked my members of the team and mixed by DJ Riggz to create a unique, one of a kind mix with a distinctly old school feel.

read more
| | | | | | | |
| --- | --- | --- | --- | --- | --- | --- |
| # | Track Title | Artist | Preview | BPM | MI | Buy track |
| 1 | Let's Go Crazy | Prince | | - | - | |
| 2 | Dance, Dance | Fall Out Boy | | - | - | |
| 3 | No Hay Igual (Club Mix) | Nelly Furtado | | - | - | |
| 4 | We Run This | Missy Elliott | | - | - | |
| 5 | One More Time (Lethal Weapon Mix) | Daft Punk | | - | - | |
| 6 | The Funk Phenomenon | Armand Van Helden | | - | - | |
| 7 | Maneater | Nelly Furtado | | - | - | |
| 8 | Rehab (SJ R.I.P. Mix) | Amy Winehouse | | - | - | |
| 9 | Live Your Life | T.I. & Rihanna | | - | - | |
| 10 | Power | Kanye West | | - | - | |
| 11 | This is Why I'm Fly (DJ Danny Dggz Remix) | Shop Boyz vs. Lenny Kravitz | | - | - | |
| 12 | I Love Rock & Roll | Joan Jett | | - | - | |
| 13 | I Love to Hypnotize | Notorious B.I.G. vs Joan Jett | | - | - | |
| 14 | Footloose (CVRBND Remix) | Kenny Loggins | | - | - | |
| 15 | Get Ur Freak On (Chocolate Puma Remix( | Missy Elliott | | - | - | |
| 16 | 2 Legit 2 Quit | MC Hammer | | - | - | |
| 17 | Brass Monkey | Beastie Boys | | - | - | |
| 18 | It Takes Two | Rob Base & DJ EZ Rock | | - | - | |
| 19 | Don't Stop... Planet Rock (Leo Zero Remix) | Afrika Bambaataa | | - | - | |
| 20 | Bodyrock (Olav Basoski's Da Hot Funk Da Freak Funk Remix) | Moby | | - | - | |
| 21 | Lose Control | Missy Elliott | | - | - | |
| 22 | Krazy | Pitbull | | - | - | |
| 23 | Outta Your Mind | Lil Jon | | - | - | |
| 24 | Show Me What You Got | Jay-Z | | - | - | |
| 25 | Flava in Your Ear | Craig Mack | | - | - | |
| 26 | Deja Vu | Beyonce & Jay-Z | | - | - | |
| 27 | Numb/Encore | Jay-Ze & Linkin Park | | - | - | |
| 28 | Bug a Boo | Destiny's Child | | - | - | |
| 29 | Imma Be | Black Eyed Peas | | - | - | |
| 30 | DJ Play a Love Song (Mr. Collipark Remix) | Jamie Foxx feat. Twista | Track preview unavailable | - | - | |
| 31 | Fergalicious | Fergie | | - | - | |
| 32 | Boogie Nights (Gesta Remix) | Heatwave | | - | - | |
| 33 | I Feel For You (Gynxx Remix) | Chaka Khan | | - | - | |
| 34 | Rollin in the Deep (Tiesto Klub Banger) | Adele | | - | - | |
| 35 | Dog Days are Over (DJ Greg J Remix) | Florence + The Machine | | - | - | |
| 36 | Busy Child (Club Mix) | The Crystal Method | | - | - | |
| 37 | Where's Your Head At? | Basement Jaxx | | - | - | |
| 38 | Breathe (Sc@rfactor remix) | Prodigy | | - | - | |
| 39 | Harder Better Faster Stronger (Diplo Work Is Never Over Remix) | Diplo | | - | - | |
| 40 | Run | Gnarls Barkley | | - | - | |
| 41 | Bitter Sweet Symphony (Cool Down) | The Verve | | - | - | |