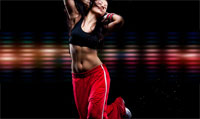 | | |
| --- | --- |
| Mix Name: | Everybody Say Paaarrrtay! |
| Mix DJ: | DJ Don Dada |
| Mix Genres: | House, Pop, Hip-hop, 80s, Latin House |
| Explict Lyrics: | No |
| Mix Length: | 60 minutes |
| Mix BPM: | Tempo |
| Mix Rating: | ( 92 Votes ) |
| Share this awesome mix: | |
Mix Description
For those that like their runs to feel like a party, this 60 minute mix from DJ Don Dada is for you! Inspired by Run Rockers @breholli and @fumby_girl, who have been know to stop for mini dance parties while they crank out the miles (#iwillstopforminidanceparitesduringmyrun), this high energy tempo mix from DJ Don Dada combines all sorts of genres and will definitely keep you pumped during your run!
The mix is similar to other tempo mixes on Rock My Run: It starts off slower and builds up over the course of the mix, peaking at about the 50 min mark. DJ Don Dada kicks things off with a couple of old school tracks, including some 80's and 90's music (yes, that's Boyz II men on there!). He keeps things in the 115bpm range before he starts speeding things up with tracks from the Pussycat Dolls, Pitbull and Rihanna. By the half way point you are fist-pumping along at 130bpm to some great house music. Finally the mix closes with some Latin flair, even including the classic "Suavemente" towards the finish.
This mix should not be missed. Enjoy!
read less
| | | | | | | |
| --- | --- | --- | --- | --- | --- | --- |
| # | Track Title | Artist | Preview | BPM | MI | Buy track |
| 1 | Rock With You(DISCOTECH REMIX) | Michael Jackson | | - | - | |
| 2 | Motown Philly | Boyz II Men | | - | - | |
| 3 | Poison | Bel Biv Devoe | | - | - | |
| 4 | When I think of You (Mr. 1DERFUL Remix) | Janet Jackson | | - | - | |
| 5 | 1, 2 Step ft. Missy Elliott (DonDada Edit) | Ciara | | - | - | |
| 6 | Don't You Want Me Baby (FRESH1 Edit) | Human League | | - | - | |
| 7 | Poker Face | Lady Gaga | | - | - | |
| 8 | When I Grow Up | Pussycat Dolls | | - | - | |
| 9 | Just Dance (Knovict Remix) | Lady Gaga feat. Kardinal Offishal | | - | - | |
| 10 | Everybody Dance Now (DJ Fresh One Edit) | C&C Music Factory | | - | - | |
| 11 | Girls on the Dance Floor (Fatman Scoop Remix) | FM feat. Fatman Scoop | | - | - | |
| 12 | The Anthem Party Break | DJ Felon | | - | - | |
| 13 | The Anthem | Pitbull feat. Lil Jon | | - | - | |
| 14 | Disturbia (Party Break) | Rihanna | | - | - | |
| 15 | Drop it Low Remix | Kat DeLuna feat. Fatman Scoop | | - | - | |
| 16 | Last Friday Night (T.G.I.F.) (Missy Elliott Remix) | Katy Perry feat. Missy Elliott | | - | - | |
| 17 | Get Ya Ass Up | DJ Class feat. Fatman Scoop | | - | - | |
| 18 | Super Bass | Nicki Minaj | | - | - | |
| 19 | Loca People (Alvaro Remix DonDada Edit) | Sak Noel | | - | - | |
| 20 | Shift (DJ Dan & Mike Balance Remix) | Fort Knox Five | | - | - | |
| 21 | Sweet Dreams (Avicii Sweeder Dreams Mix) | Eurythmics | | - | - | |
| 22 | Better Off Alone (Laidback Luke Remix) | Alice Deejay | | - | - | |
| 23 | You Give Love a Bad Name (Rock-It Scientists Prutata Remix) | Bon Jovi feat. Afrojack & R3hab | | - | - | |
| 24 | Put Your Drinks Up | DJ Mad feat. David S | | - | - | |
| 25 | Shots | LMFAO feat. Lil Jon | | - | - | |
| 26 | Drink | Lil Jon feat. LMFAO | | - | - | |
| 27 | Party Rock Anthem | LMFAO feat. Lauren Bennett & Goon Rock | | - | - | |
| 28 | Let Your F#cking Fist Pump (DJ Deville Clean Hype Edit) | Kemal Golden feat. Lil Jon | | - | - | |
| 29 | The Edge of Glory (Porter Robinson Club Remix) | Lady Gaga | | - | - | |
| 30 | Ready or Not | Michael Mind Project feat. Sean Kingston | | - | - | |
| 31 | Pon Da Floor (Stanton Warriors Mix) | Major Lazer | | - | - | |
| 32 | Sing Sing Sing (Yolanda Be Cool & DCUP Remix) | Jazzbit | | - | - | |
| 33 | We No Speak Americano | Yolanda Be Cool & DCUP | | - | - | |
| 34 | Shake Senora | Harry Belafonte | | - | - | |
| 35 | Shake Senora Remix (DonDada Edit) | Pitbull feat. T-Pain, Sean Paul, & Ludacris | | - | - | |
| 36 | Suavemente (The Architect Davey B Re-Edit) | Elvis Crespo | | - | - | |
| 37 | Calle Ocho (R DUB L Remix DonDada Edit) | Pitbull feat. Casley | | - | - | |