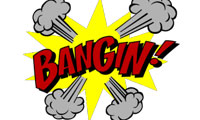 | | |
| --- | --- |
| Mix Name: | Bangin Beats |
| Mix DJ: | DJ JLouis |
| Mix Genres: | House |
| Explict Lyrics: | No |
| Mix Length: | 30 minutes |
| Mix BPM: | 131 |
| Mix Rating: | ( 31 Votes ) |
| Share this awesome mix: | |
Mix Description
This is one is for all the Run Rocker's who love some nice, hard electro/techno beats to drive their workouts. DJ JLouis has put together a BANGIN' set of beats and remixes that is perfect for some speedwork or just a quick 30 minute workout.
There's not much in the way of warmup with this one as the mix gets you rolling from when you hit play as JLouis starts the mix off with a HOT remix of a song from The Lion King.  Who would have ever thought you'd be running to something from the Lion King, right?
From there the mix rolls through several build up's & breakdowns that will keep you charging hard.  Remixes of some great radio tracks right now as well as some album cuts from LMFAO fill in the meat of the mix.  One of the highlights is about 2/3rd's of the way through where there is a super creative transition from "Champagne Showers" to an Afrojack remix of "Sweat". Bangin!
The mix finishes up with an incredible climax that builds your cadence and pace as you close in on the end of your short, but fast, run.
read less
This is one is for all the Run Rocker's who love some nice, hard electro/techno beats to drive their workouts. DJ JLouis has put together a BANGIN' set of beats and remixes that is perfect for some speedwork or just a quick 30 minute workout.

read more
| | | | | | | |
| --- | --- | --- | --- | --- | --- | --- |
| # | Track Title | Artist | Preview | BPM | MI | Buy track |
| 1 | Lion King (Diggz Refix) | Douster | | - | - | |
| 2 | 2. Hey Baby (Kassianos Brazillian Tribal Mix) | Pitbull ft. T-Pain | | - | - | |
| 3 | In The Dark (DJ Vice Mix) | DEV ft. Kanye West | | - | - | |
| 4 | The Show Goes On (Mo Rada Space Junk Edit) | Lupe Fiasco ft. Wolfgang Gartner | | - | - | |
| 5 | Sexy and I Know It (JD Live Redrum) | LMFAO | | - | - | |
| 6 | S&M (Sidney Sampson Club Mix) | Rihanna | | - | - | |
| 7 | Bring The Noise (Pum Kin Remix) | Benny Benassi | | - | - | |
| 8 | Bulletproof (Hyper Crush Remix) | La Roux ft. Hyper Crush | | - | - | |
| 9 | Over (Hyper Crush Remix) | Drake ft. Hyper Crush | | - | - | |
| 10 | Champagne Showers | LMFAO | | - | - | |
| 11 | Sweat (Afrojack Remix) | Snoop Dogg | | - | - | |
| 12 | Yeah 3x (Cold Blank & Alex Dreamz Remix) | Chris Brown | | - | - | |
| 13 | Tonight (XS Remix) | Enrique Iglesias | | - | - | |
| 14 | Down on the End (Chuckie Bootleg) | Tommy Trash vs. Jeremih | | - | - | |