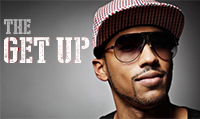 | | |
| --- | --- |
| Mix Name: | The Get Up |
| Mix DJ: | DJ Riggz |
| Mix Genres: | Pop, Hip-hop |
| Explict Lyrics: | Yes |
| Mix Length: | 60 minutes |
| Mix BPM: | Varies |
| Mix Rating: | ( 26 Votes ) |
| Share this awesome mix: | |
Mix Description
This running music mix was designed to take you on a roller-coaster ride for one of those medium distance runs. It contains some "timing messages" to let you know how long you are running and how much longer until your run is complete.
The beginning has a feel good beat, with a classic track from Notorious B.I.G. circa 1994. It's meant to get you feeling good and into a comfortable pace. If this is being used in a short race, say a 10k, this would help to keep you on an even keel in the face of all that pre-race excitement.
From there the tracks build in intensity, with some inspirational tracks from Kanye West, such as "Stronger" and "Touch the Sky" to build the confidence in the early part of the run. The first energy mountain culminates with some LMFAO before transitioning into one of the hottest hip-hop tracks right now "Black and Yellow".
At this point many people might ask: Why go into lower tempos? Shouldn't it be all high energy all the time?
Well we've found that although these tracks are technically slower, the energy they evoke can be more motivating that just a driving beat. When Kanye talks about having power, even though it's not the tempo to run to, it can be just as energizing.
Plus some people find the same beat at the same level monotonous over the course of an hour. By switching up tempos it helps keep the brain engaged and the music interesting.
From there the mix hits a couple of lower tempo track before building to the second energy mountain. You will likely find the "Still DRE" transition to be a fist pumping escalation!
The mix stays in the in high energy zone for a bit before dropping back down for the second valley. Sorry to the Rhianna haters out there, she makes an appearance on this mix as well, though with a less popular song. We actually think this track is better for running – when she talks about how she "goes hard" hopefully you feel the same way about your running!
Finally the mix hits its third and final energy mountain just as you can see the finish line of your run in site. "Airplanes" sets the stage for an epic finish, making you "wish right now" for your best effort. The Usher track should have you digging deep, sprinting toward the line and finally "All I Do is Win" should have you feeling strong and confident as you complete your work out.
The cool down song, a new one by Nicki Minaj and Drake has some really great lyrics (especially in the beginning) about how great it feels to be alive and hopefully by the end of this workout, you feel the same.
read less
This running music mix was designed to take you on a roller-coaster ride for one of those medium distance runs. It contains some "timing messages" to let you know how long you are running and how much longer until your run is complete.

read more
| | | | | | | |
| --- | --- | --- | --- | --- | --- | --- |
| # | Track Title | Artist | Preview | BPM | MI | Buy track |
| 1 | Juicy (Remix) | Notorious B.I.G | | - | - | |
| 2 | Find Your Love (Juicy Blend - DJ Kontrol Remix)) | Drake | | - | - | |
| 3 | Carry Out Breathe Edit (DJ Aaron Sheppard Remix | Justin Timberlake & Timbaland vs. Q-Tip | | - | - | |
| 4 | Stronger | Kanye West | | - | - | |
| 5 | Hello, Good Morning | Diddy feat T.I. | | - | - | |
| 6 | Rosa Parks (DJ Riggz Remix) | Outkast | | - | - | |
| 7 | Touch the Sky | Kanye West | | - | - | |
| 8 | Morning After Dark | Timbaland feat. Nelly Furtado | | - | - | |
| 9 | Alright Mr. 305 (CVRBND More Saxy Remix) | Pitbull | | - | - | |
| 10 | No Hands (Scooter Club Remix) | Waka Flocka Flame | | - | - | |
| 11 | Shooting Star (Party Rock Remix) | David Rush Feat. Lmfao Pitbull And Kevin Rudolf | | - | - | |
| 12 | Black and Yellow (DJ Deville Remix) | Wiz Khalifa | | - | - | |
| 13 | Power | Kanye West feat. Dwele | | - | - | |
| 14 | Bottoms Up (remix) | Trey Songz feat Busta Rhymes & Nicki Minaj | | - | - | |
| 15 | Run this Town (DJ Vybez Surprise Blend Remix) | Jay-Z & Rhianna | | - | - | |
| 16 | On to the Next One (DJ Riggz Extended Mix) | Jay-Z | | - | - | |
| 17 | We Fly High | Jim Jones | | - | - | |
| 18 | Tear it Up | Yung Wun | | - | - | |
| 19 | Still D.R.E. (Anthem Kingz Remix) | Dr. Dre & Snoop Dogg | | - | - | |
| 20 | Move Shake Drop | DJ Laz | | - | - | |
| 21 | Lose Control | Missy Elliott feat Ciara & Fat Man Scoop | | - | - | |
| 22 | I Like It | Enrique Iglesias feat Pitbull | | - | - | |
| 23 | So Hard (DJ Scooter Remix) | Rhianna | | - | - | |
| 24 | Empire State of Mind | Jay-Z feat Alicia Keys | | - | - | |
| 25 | Toot it and Boot it | YG | | - | - | |
| 26 | Fancy | Drake | | - | - | |
| 27 | Southern Hospitality | Ludacris | | - | - | |
| 28 | Ruff Ryders Anthem | DMX | | - | - | |
| 29 | Its Going to Shut Down (DJ Starski) | Yung Joc vs. Pitbull & Akon | | - | - | |
| 30 | Shots N Roses (DJ Holtie Masta Mash) | LMFAO feat Lil Jon vs. Guns & Roses | | - | - | |
| 31 | Culo | Pitbull feat Lil Jon | | - | - | |
| 32 | Airplanes (DJ Megaman & Panic City Remix) | B.O.B. | | - | - | |
| 33 | More | Usher | | - | - | |
| 34 | All I do is Win | DJ Khaled ft T-Pain, Ludacris, Rick Ross, & Snoop Dogg | | - | - | |
| 35 | Moment 4 Life (Cool Down) | Nicki Minaj & Drake | | - | - | |