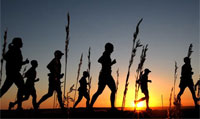 | | |
| --- | --- |
| Mix Name: | The Sun Run Vol 3 |
| Mix DJ: | DJ Eric Love |
| Mix Genres: | House, Hip-hop, Latin House, Oldies |
| Explict Lyrics: | Yes |
| Mix Length: | 30 minutes |
| Mix BPM: | Varies |
| Mix Rating: | ( 19 Votes ) |
| Share this awesome mix: | |
Mix Description
In this, Rock My Run's third installment of DJ Eric Love's "Sun Run" series you will a fun 30 minute mix filled with Hip-hop tracks, dance/house tracks, some Latin tracks and even some old school songs to take you back in the day. It's a perfect soundtrack for an end of summer run that will make your workout fly by!
Highlights in this mix include a flashback to the 60's with Sugar, Sugar from The Archies, the always fun Hey Ya! from Outkast and a sweet remix of Hello that's  energy packed.  This mix TRULY cover a wide range of genres, even including some Latin-flavored tracks with Blanco from Pitbull, Mariachi Loco from Keewix and a remix of Venga. The sound is pretty unique and even if you don't understand the lyrics, the energy of the tracks will keep you pumping (and maybe even have your hips swaying as well!)
From a BPM standpoint this is another Rock My Run mix that varies a bit over the course of the workout.  It starts at 120 bpm and stays in that range before dropping down to about 82 for a couple of hip-hop songs.  It then builds back up to 130 BPM before finishing around 140.
Enjoy!
read less
In this, Rock My Run's third installment of DJ Eric Love's "Sun Run" series you will a fun 30 minute mix filled with Hip-hop tracks, dance/house tracks, some Latin tracks and even some old school songs to take you back in the day. It's a perfect soundtrack for an end of summer run that will make your workout fly by!

read more
| | | | | | | |
| --- | --- | --- | --- | --- | --- | --- |
| # | Track Title | Artist | Preview | BPM | MI | Buy track |
| 1 | Holiday | Dizee Rascal | | - | - | |
| 2 | Together (DCUP Remix) | Those Usual Suspects | | - | - | |
| 3 | Sugar Sugar | The Archies | | - | - | |
| 4 | Kick Us Out | HyperCrush | | - | - | |
| 5 | Night Out | Martin Solveig | | - | - | |
| 6 | Where's Your Head At? | Jean Elan | | - | - | |
| 7 | Black & Yellow | Wiz Khalifia | | - | - | |
| 8 | Live Your Life | T.I ft. Rihanna | | - | - | |
| 9 | Hey Ya | Outkast | | - | - | |
| 10 | Magic | B.O.B | | - | - | |
| 11 | Say Hey | Michael Franti | | - | - | |
| 12 | Blanco | Pitbull | | - | - | |
| 13 | Fire Burning | Sean Kingston | | - | - | |
| 14 | I'm on One (MegaMan & Panic City Remix) | Drake | | - | - | |
| 15 | Mariachi Loco | Keewix feat. Messinian | | - | - | |
| 16 | Venga (Chuckie Remix) | Picco | | - | - | |
| 17 | Hello (Sidney Samson Remix) | Martin Solveig | | - | - | |
| 18 | Bumpy Ride (Chuckie Remix) | Mohombi | | - | - | |
| 19 | Bangduck | Afrojack | | - | - | |
| 20 | Oh My (X-Change Mix) | DJ Drama | | - | - | |
| 21 | I'm in the House (LMFAO Remix) | Steve Aoki ft. Zuper Blahq | Track preview unavailable | - | - | |