MOTIVATIONAL MUSIC
FOR ALL YOUR ACTIVITIES
Get a 14 Day Free Trial of RockMyRun music. Real DJ music mixes specifically designed for your workouts.
HEAR THE
DIFFERENCE
TRACK YOUR
RUNS
SYNC MUSIC
TO BODY
WATCH
CONTROL
HOW ROCKMYRUN
MUSIC IS DIFFERENT
Our world class DJs have consulted with leaders in the running & fitness community to create the ultimate fitness music experience. Your favorite songs, mixed together seamlessly - optimized for running and a variety of workouts.

DJs
+

Coaches
+

Runners
LET YOUR BODY DRIVE THE BEAT
Sync Music to your Heartbeat (iOS Only)
RockMyRun syncs with a variety of heart rate monitors so the music can follow the beat of your heart!
Match Music to your Steps
Using data from the accelerometer in your smartphone, RockMyRun knows your steps per minute and automatically adjusts the tempo of the music so that you can hit your stride.
Manually Adjust the Tempo
Set the BPM by manually adjusting the tempo of your favorite music to keep you motivated and beat your PR.
Find the Music You Love and Discover New Music
Find the music you know and love by searching for specific artists, songs or mixes. Discover new music by selecting genre, mix length, BPM, mood or activity preferences.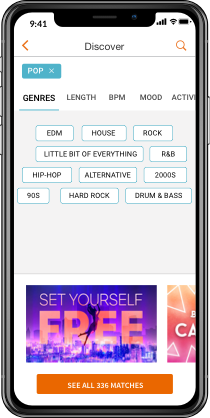 TRACK YOUR
WORKOUTS
Track your workouts while listening to music you love. Sync with your phone to track distance (mi/km), total steps taken, steps per minute, heart rate and calories burned.
APPLE WATCH MUSIC CONTROL
Play, skip, and pause music, view performance stats and quickly adjust music tempo from your Apple Watch.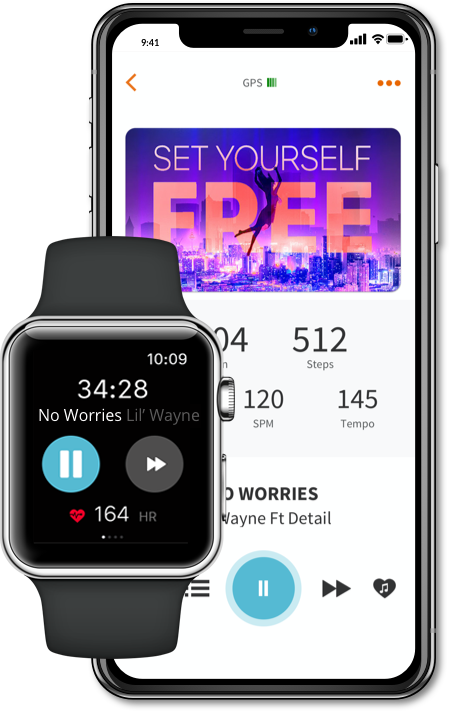 Love that one song leads into the next, never lingering too long in one spot. Great variety and frequent change ups keep me going even when I want to quit.